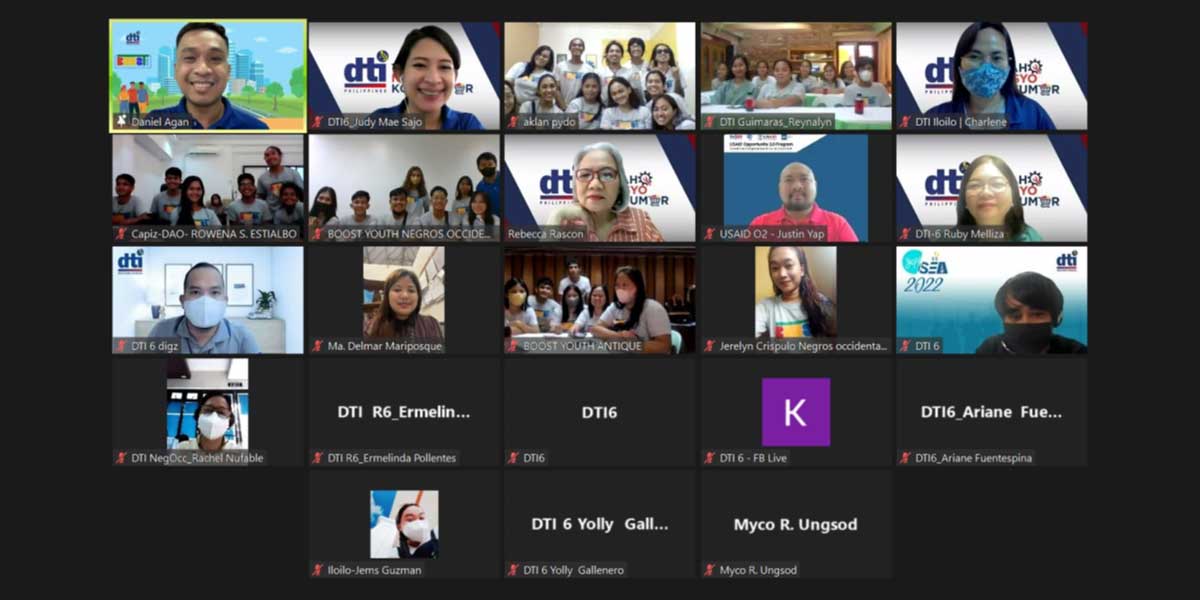 Two of the flagship programs of the Department of Trade and Industry (DTI) for youth entrepreneurship development which are the Be Your Own Boss Out of School Training for Youth (BOOST Youth) and the Youth Entrepreneurship Program: In-School Entrepreneurship Academy (YEP:iSEA) held their virtual graduation ceremonies, on August 30 and 31, respectively.
The programs produced over 100 graduates, 61 of whom are out of school youth who joined the BOOST Youth Program while 43 mentees who graduated from the YEP: iSEA are in-school youth currently enrolled in 12 partner schools in Region 6.
The BOOST Youth which was launched on August 15, 2022 is part of the United States Agency for International Development (USAID) Opportunity 2.0 Program, in partnership with the Department of Trade and Industry (DTI) to enhance entrepreneurship training programs for Filipino out-of-school youth to improve their education, employment, and livelihood outcomes.
The YEP: ISEA on the other hand, which was launched on July 1, 2022 is a 3-month mentoring and coaching program which intends to help budding in-school youth start-ups turn their ideas into a minimum viable product and mentor young entrepreneurs in running their businesses successfully.
The DTI Provincial Offices has been assisting the youth sector by conducting entrepreneurship and marketing seminars in participating schools as part of DTI's advocacy on youth entrepreneurship.
The modules under both programs cover entrepreneurial mind-setting and business planning, business model canvas, marketing management with digital planning, financial and operational management and how to prepare a powerful business elevator pitch.
During the graduation ceremonies, the top mentees were given start-up kits, cash, and gift certificates to help them start and scale up their businesses.
RD Rascon hopes that more participants from the youth sector will join both programs next year and will form part of the 2023 batch of youth mentees.
The programs are in line with the implementation of the Youth Entrepreneurship Act (Republic Act No. 10679) which mandates the Micro, Small, and Medium Enterprise Development Council (MSMEDC) through the DTI to implement a national program to promote youth entrepreneurship development and the Philippine Development Plan (2017-2022) which aims to increase the number of new entrepreneurs.