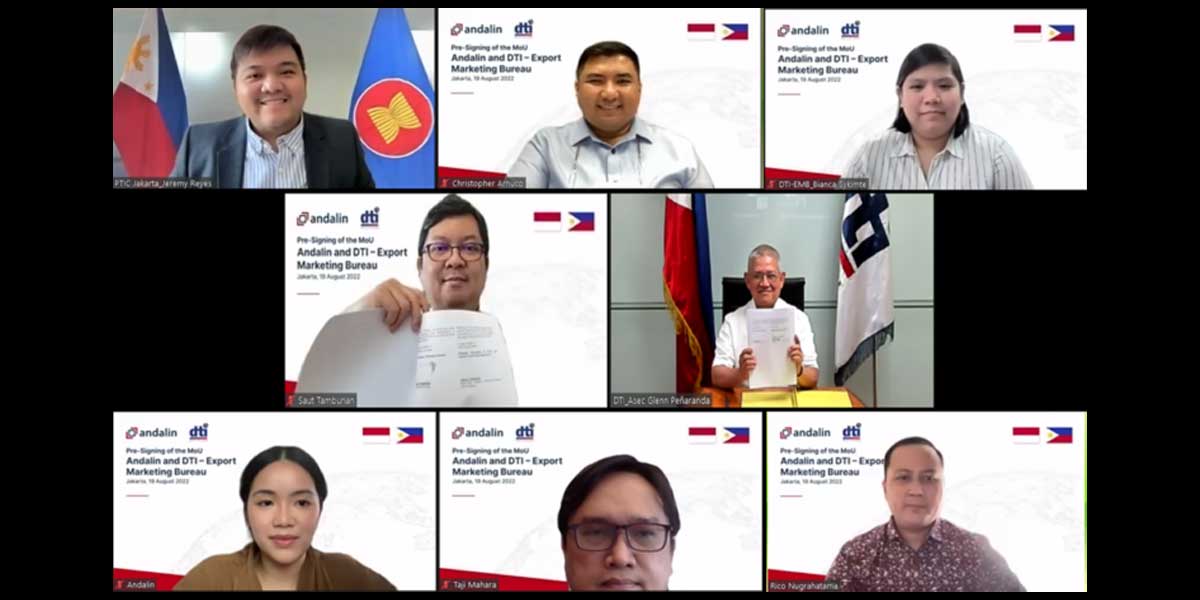 The Philippine Department of Trade and Industry- Export Marketing Bureau (DTI-EMB) partners with Andalin to boost trade and business-to-business (B2B) interactions between the Philippines and Indonesia.
A memorandum of understanding (MoU) was signed by DTI and Andalin on 19 August 2022.  The signing was led by Supervising Assistant Secretary of DTI-EMB Glenn G. Peñaranda and Andalin COO Mr. Saut Tambunan.
The scope of the MoU includes joint initiatives to promote the onboarding of Philippine industry players, particularly exporters, in Andalin Trade which offers a globally accessible e-commerce platform with secure and seamless process. Andalin has earlier partnered with Singapore, Thailand, and Vietnam.
"The MoU signing with the Philippines is another step forward for Andalin to digitalize international trade in Southeast Asia after earlier collaboration with Singapore, Thailand, and Vietnam. Andalin
Trade enables international trade buyers and sellers to connect easily and safely on our platform in a more safe, transparent, and efficient way. Buyers and sellers can join Andalin Trade for free; they only need to pass a strict selection and verification system to ensure all parties can maximize the platform as much as possible," Andalin CEO Rifki Pratomo said.
Last month, during G20/B20 Forum in Singapore, Andalin officially launched Andalin Trade. This new service will add to Andalin's existing services, such as shipping, insurance, customs clearance, etc. This move enables Andalin to be an International Trade Superhub, combining all services on one platform. Andalin will continue expanding its service beyond Southeast Asia and aim to launch in the Asia Pacific and the Middle East.
Andalin's technology is supported with a presence in 200 global ports and 200 service partners worldwide.  It is the largest digital freight forwarding company in Southeast Asia based in Jakarta.
The DTI-EMB is mandated to oversee the development, promotion, and monitoring of Philippine exports. According to DTI-EMB Supervising Assistant Secretary Glenn G. Peñaranda, "The Philippine Department of Trade and Industry is aggressively pursuing partnerships with export enablers such as Andalin that can provide digital turnkey services to our exporters, from searching potential buyers to providing shipping and payment options, and that can serve as catalysts in deepening Philippine participation in global value chains."
To join, users can register on the trade.andalin.com website. They will undergo a verification process to check the legality and track record of the company. Once they pass, users can directly submit a Request for Quotation (RFQ) or participate in bidding. Andalin also provides a chat feature so both parties can negotiate until an agreement is in place.
"Thru Andalin Trade, we hope to encourage our exporters to look for new markets and partners and boost the confidence of would-be exporters in engaging in cross-border trade. We aim to conduct joint briefings with exporters to promote onboarding in Andalin Trade," DTI-EMB Director Christopher Lawrence S. Arnuco said.
Andalin Trade users can complete payments through secure methods, such as Letter of Credit (L/C), Telegraphic Transfer (TT), or escrows. Users can also rely on Andalin's cross-border shipping service, custom arrangement, insurance, and funding without switching platforms. Both suppliers and buyers will enjoy the convenience of a more seamless trading experience, thanks to the one-stop Andalin Trade platform.