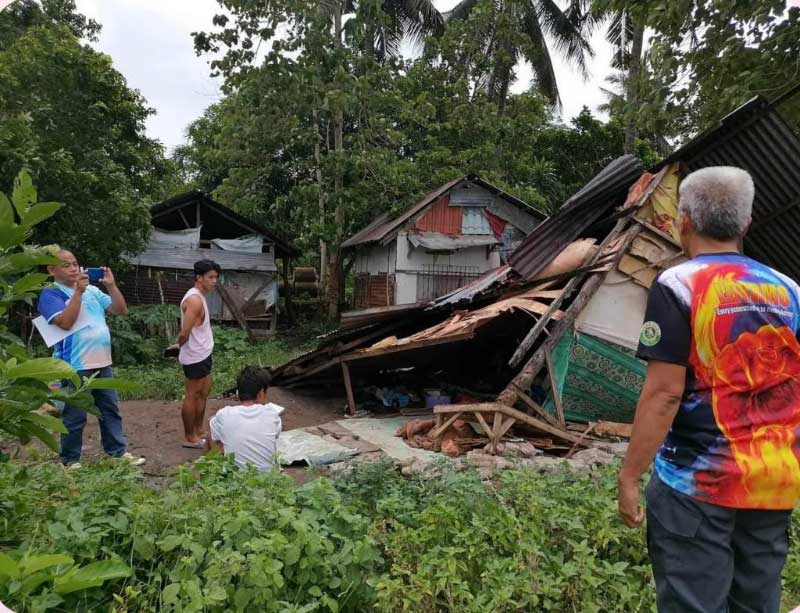 By Glazyl Y. Masculino
BACOLOD City – The Provincial Disaster Management Program Division (PDMPD) reported that 8,540 families, including 32,670 individuals from 125 barangays in Negros Occidental were affected by Super Typhoon "Egay" as of 11 a.m. of July 26.
The town of Valladolid had the most number of affected residents with 3,891 families, including 17,510 individuals.
The evacuees were from Barangays Guintorilan, Ayungon, Alijis, Mabini, Bagumbayan, Central Tabao, Tabao proper, Sagua Banua, Palaka, Poblacion, Batuan, Doldol, Pacol, and Paloma.
It was followed by San Enrique town with nine families, including 12,195 individuals affected from Barangays Bagonawa, Baliwagan, Guintorilan, Poblacion, Tabao Rizal, Tabao Babay, Sibucao, Tibsoc, and Batuan.
Don Salvador Benedicto town reported that 258 families, including 1,075 individuals from Barangays Pandanon, Bunga, Bagong Silang, Igmayaan, and Kumaliskis were also affected.
The typhoon also displaced 278 families, including 893 individuals from Barangays Maricalum, III, Cabadiangan, Gil Montilla, and Manlucahug in Sipalay City.
A total of 95 families, including 360 individuals were affected in Barangays Maao, Balingasag, Taloc, Poblacion, Calumangan, Napoles, Aliaza, and Caridad in Bago City.
In Pontevedra town, 66 families from Barangays San Juan and San Isidro were also affected, and 74 more families in Barangays Patag, Lantad, and Guinhalaran in Silay City.
Fifty-three families or 147 individuals were displaced in Barangay Guijulgan, Cauayan town, while 22 families, or 88 individuals were affected in Barangays Mabini and Celestino Villacin in Cadiz City.
Barangay Culo in Pulupandan town was also affected, resulting in the evacuation of 20 families, including 70 persons.
A total of 14 families or 60 persons from Barangays Sangke, I Poblacion, Daug, and Alim in Hinoba-an town were also affected.
Two families or 12 persons from Barangays Old Sagay and Poblacion 2 in Sagay City; and one family or six persons in Barangay Robles, La Castellana town were also affected.
Meanwhile, 167 houses were damaged in 11 barangays in the province due to strong winds.
Of the number, 18 were destroyed while 149 were partially damaged in the towns of Hinoba-an, Pontevedra, and San Enrique, and the cities of Silay, Sagay, and Cadiz.
San Enrique town has the most number of damaged houses at 131.
Further, about P3.8 million worth of crops were also damaged in the typhoon.
For Bacolod, 1,312 families or 4,520 individuals were also affected by the typhoon in 18 barangays, as of 8 a.m. of July 26.
The barangays affected were 1, 2, 27, 31, 35, 36, 39, 40, 41, Pahanocoy, Taculing, Sum-ag, Singcang-Airport, Mansilingan, Tangub, Cabug, Alijis, and Punta Taytay here.