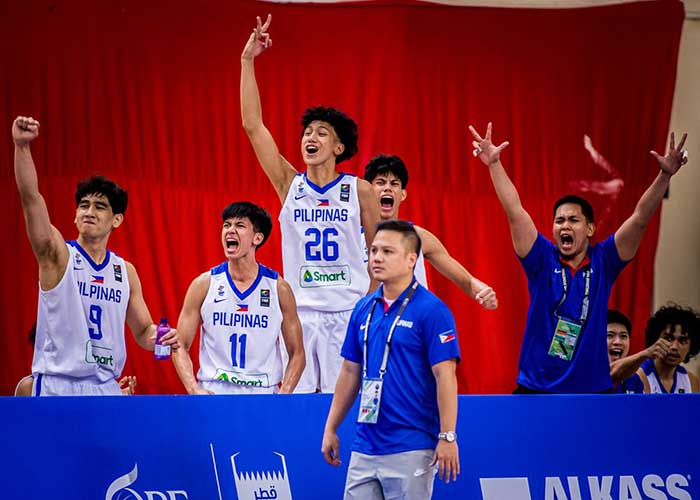 By Leobert Julian A. de la Peña
The Gilas Pilipinas Under-16 national basketball team just found their groove at the most perfect time of the FIBA U-16 Asian Championship tournament after demolishing Malaysia, 75-52, last September 20, 2023, held at the Al-Rayyan Indoor Hall in Doha, Qatar.
With the huge victory, the young Filipino hoopers just racked up their second consecutive win and are now carrying an impressive 2-1 win-loss record.
After losing their opening campaign against the huge Chinese squad, Gilas turned it up and bounced back against Kazakhstan, 66-42, and picked up where they left off against Malaysia.
It was an entirely different scenario against the Malaysians as the Filipinos were immediately in the driver's seat when they led by double digits at the end of the first quarter.
Gilas led 29-8, and never let go of their advantage in the remaining three frames boosted by their balanced scoring and effort in the defensive end.
Despite improved scoring from Malaysia in the second quarter, Gilas did enough to maintain their double-digit lead and even extended their cushion to 34 points at one point in the game.
Kieffer Alas once again grabbed the spotlight for the national team after tallying an impressive double-double performance of 15 points and 13 rebounds.
Backstopping Alas' consistent outing was Kurt Velasquez who finished the game with an all-around efficient outing of 13 markers, seven rebounds, three assists, and two steals.
All players that coach Josh Reyes each fielded a bucket for Gilas, including Elijah Williams who contributed nine points and nine dimes.
Up next for the PHL U-16 team is the shooting-oriented South Korean national team today, in the play-in round of the tournament.