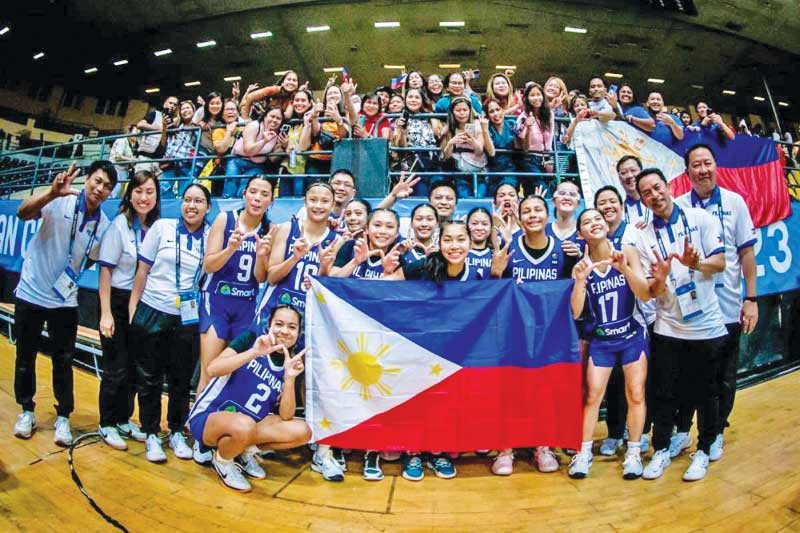 By Leobert Julian A. de la Peña
The Gilas Pilipinas Women's national team's ultimate goal of reaching the top of the FIBA Under-16 Asian Championships is still alive after obliterating Jordan, 106-58, last July 13, 2023, held at the Prince Hamza Sport Hall in Amman, Jordan.
With the win, the prized Gilas girls just racked up their third-straight win and are still unbeaten in the Division B of the FIBA Asian Championships.
Just like their wins against Hong Kong and Maldives, the young Filipina cagers didn't allow Jordan to heat up early and used their varied defensive approach to lock up their backcourts.
Ava Fajardo, Gilas' player of the game during their debut win against Hong Kong, continued her all-around efficiency and dropped 17 points, five assists, and four rebounds.
Fajardo's steadiness and great court awareness kicked off Gilas' huge second quarter that helped them balloon their lead to as much as 25 points heading into the second half.
Despite adjusting to Gilas' defense when they dumped the ball underneath to draw more fouls and start the third quarter with easy deuces, the Filipinas countered back with a run-and-gun attack and officially fended Jordan off with only two minutes remaining in the third.
Gilas just stomped over them in the remaining final frame and launched a barrage of three-pointers courtesy of the waxing-hot Shannon Sayson.
After a quiet performance against Maldives two days ago, the consistent scorer finally erupted for team PHL and tallied 19 points, seven steals, six assists, and four rebounds.
Nevaeh Smith had another stellar game for the Gilas girls and backstopped Fajardo and Sayson with 15 markers while Ryan Nair had 11 points and seven assists.
With the win, the Gilas girls are now qualified for the Division B semifinal round and will be waiting for the no. 2 ranked team in the bracket composed of Iran, Malaysia, Singapore, and Guam.