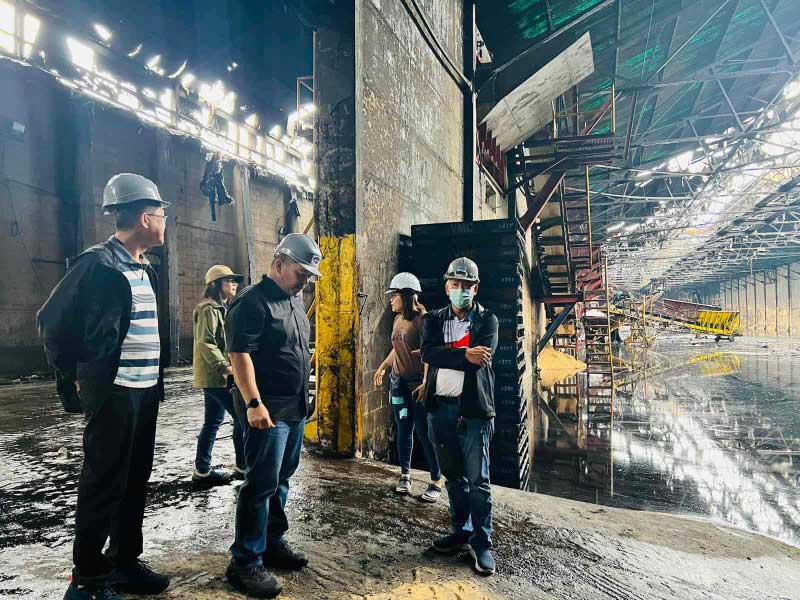 By Glazyl Y. Masculino
BACOLOD City – The Bureau of Fire Protection (BFP) in Victorias City, Negros Occidental is probing the cause of a fire that gutted a building inside the compound of Victorias Milling Company in Barangay 17 on Sunday night.
Fire Officer 1 Melvin Juson, fire arson investigator of Victorias City Fire Station, said they received a fire call around 6:52 p.m.
The blaze razed the raw sugar warehouse, clinic, labor hall, and other rooms and offices of the VMC, as these structures are connected to one building, according to Juson.
But Juson said arson investigators have no lead yet as to the cause of fire or which part of the building the blaze broke out.
The VMC has yet to provide the estimated value of damaged properties.
Juson said the fire grew bigger because of the heat insulator attached to the roof, and sugar is also considered a highly combustible material.
He said that no injuries were reported. Fire out was declared at 11:02 p.m.
A fire also razed a building of VMC in December 2021 when a blaze broke out from the New Bagas Shed Building that stores sugarcane residue or pulp, locally known as "bagaso," which is used as fuel by VMC's power plant.
Meanwhile, Sugar Regulatory Administrator Pablo Luis "Paul" Azcona visited VMC on Monday morning.
Azcona said the VMC will complete their assessment yesterday, but he is positive that they can open on Sept. 1., adding that the fire "had minimal effect on the sugar supply".
He added that he was saddened watching footage of the incident, "but I don't think it will hamper VMC's efforts to start the crop year."
"In hardship, greater things come out, and I know you guys will come out better," Azcona told VMC.