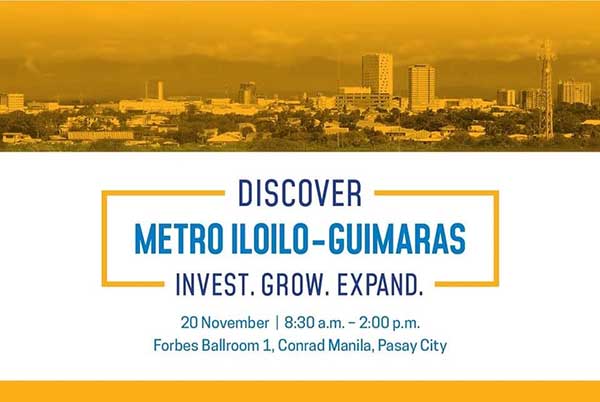 By Mariela Angella Oladive
The Metro Iloilo-Guimaras Economic Development Council (MIGEDC), in collaboration with the Iloilo Economic Development Foundation, is set to host its first investment forum, eyeing an investment worth not less than P500 million.
With the theme, "DISCOVER METRO ILOILO-GUIMARAS: INVEST. GROW. EXPAND," the event will take place today, November 20, at the Conrad Manila Hotel in Pasay City.
Iloilo City Mayor Jerry Trenas emphasized the importance of the endeavor, highlighting the strategic opportunity that the Metro Iloilo-Guimaras alliance offers to potential investors, stating:
"Development needs to go beyond the borders of Iloilo City, and the Metro Iloilo-Guimaras alliance provides a strategic opportunity for investors to check out as they plan for their next investment location."
Established in 2006 as an inter-local government cooperation initiative, MIGEDC is committed to fostering private sector-led and market-driven growth. It aims to attract strategic investors to the burgeoning Metro Iloilo-Guimaras (MIG) growth area.
According to MIGEDC Executive Director Velma Lao, the forum will showcase not only investment opportunities in Iloilo City but also the adjoining Iloilo towns like Leganes, Pavia, Sta. Barbara, Cabatuan, Oton, and San Miguel, as well as Guimaras province.
She further shared specific project briefs by participating Local Government Units (LGUs) with San Miguel, focusing on agri-processing and creating a commercial area for a technology park.
Meanwhile, Leganes is offering 100 hectares of private land and 186 hectares of LGU-owned land for development as an economic zone, open to joint ventures.
Sta. Barbara envisions a retirement village and is exploring projects centered around recreation, livability, and environmental sustainability.
Oton is aiming to have a waste processing facility and an eco-park, likewise sustaining its traditional weaving industry.
Cabatuan, home to an international airport, is seeking to become a logistics and food terminal hub.
Pavia is set to maintain its status as an industrial zone in Iloilo.
Guimaras is looking for a stable power supply to complement its plans for cold storage facilities and the development of agri and eco-tourism projects.
The forum anticipates the participation of representatives from Manila-based business organizations, economic offices of foreign embassies, and private companies.
The keynote speaker is Ryan Washburn, the Mission Director of the United States Agency for International Development (USAID). Also joining are former Ilonggo Sen. Franklin Drilon, Iloilo Gov. Arthur Defensor Jr., Guimaras Gov. JC Rahman Nava, and Treñas.
Presented by Double Dragon Corp., the forum enjoys support from key sponsors, including First Gen Corp., Metro Pacific Iloilo Water, Panay Energy Development Corp, La Filipina Uygongco Group of Companies, Aboitiz InfraCapital, Carelon Global Solutions, Rockwell Land Corporation, IBC International Builders Corporation, Ayala Land, Inc., Unionbank, Philippine Chamber of Commerce and Industry-Iloilo Chapter, Inc., and MORE Electric and Power Corp
The collaboration of these entities underscores the collective commitment to fostering economic growth and development in the region.