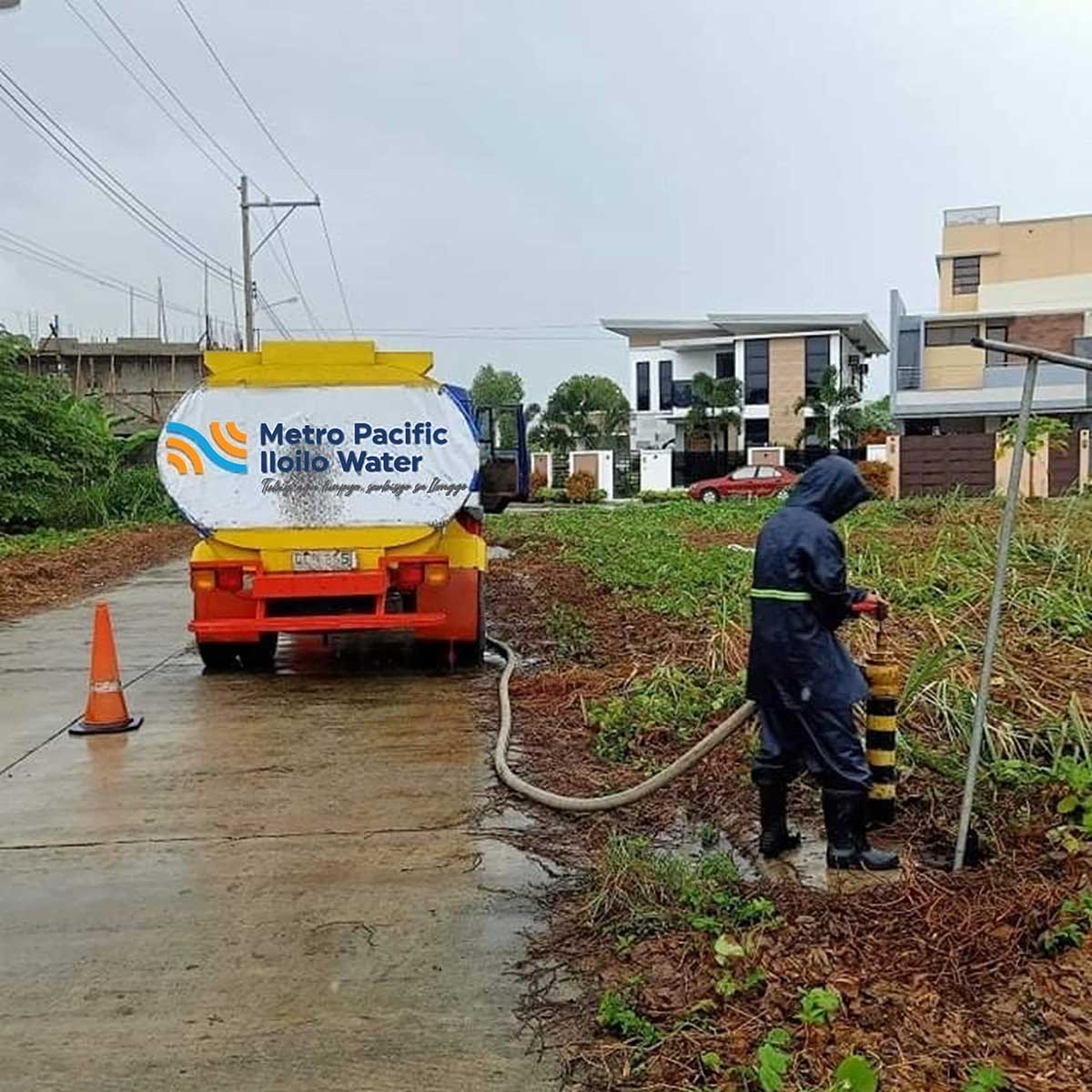 By Joseph B.A. Marzan and Francis Allan L. Angelo
Surprise, surprise?
Just when we thought that Metro Iloilo's water supply woes was settled, at least in the next six months, Metro Pacific Iloilo Water (MPIW) on Monday announced immediate rotating water supply disruptions in some parts of the city and province of Iloilo after one of its bulk suppliers abruptly notified them that it would cut its services.
The following MPIW service areas in the city and province of Iloilo will have water supply between 3:00 a.m. and 3:00 p.m.:
-Jaro district (Balabago, Balantang, Buhang, Buntatala, Camalig, Cuartero, Cubay, Democracia, Fajardo, Libertad-Santa Isabel, Lopez Jaena, Maria Cristina, M.V. Hechanova, Quintin Salas, Sambag, San Isidro, San Roque, Simon Ledesma, Tabuc Suba, Tacas, and Ungka);
-Mandurriao district (Calajunan, Guzman, Hibao-an Norte, Hibao-an Sur, Oñate De Leon, and Sooc); and
-Whole of Santa Barbara, Pavia, and Leganes towns.
Meanwhile, water supply will be available in these service areas from 3:00 p.m. to 3:00 a.m.:
-Jaro district (Benedicto, Calubihan, Desamparados, Dungon A and B, El 98 Castilla, Javellana, Lourdes, Luna, M.H. Del Pilar, Montinola, Our Lady of Fatima, San Jose, San Pedro, San Vicente, and Taytay Zone II);
-Mandurriao district (Bakhaw, Bolilao, Diversion Road, Dungon, Navais, PHHC, Q. Abeto, R. Mapa, San Rafael, Santa Rosa, Tabucan, and Taft North);
-Whole of Arevalo, City Proper, La Paz, Lapuz, and Molo districts.
The water interruptions, as stated in MPIW's Facebook post, started yesterday, June 13, and will be implemented until further notice.
In a separate press release on Monday, the MPIW explained that the sudden announcement was due to an abrupt notice by FLO Water Resources, one of its bulk water providers, that the latter would immediately shut down its water treatment plant and would cease to supply water to the distribution company.
The MPIW originally announced rotational schedules for water supply back in May 2022 due to the expiry of a 10-year agreement with FLO Water, but this was cancelled due to a compromise agreement reached between the two sides.
MPIW said FLO Water has not signed their Memorandum of Understanding (MOU) which would have implemented a P21 per cubic meter rate for the interim 6-month supply deal.
"MPIW and FLO Water agreed for a six (6) months provisional agreement to extend FLO Water's supply of bulk water to MPIW at [P21 per cubic meter] after the May 15, 2022 contract expiration with [the Metro Iloilo Water District] under the mutually agreed on terms and conditions," the MPIW recalled in its press release.
"The price will be subject to a review from a third-party/independent appraiser. However, as of today, FLO Water has not signed the Memorandum of Understanding (MOU) which is meant to safeguard the customer's interest. The MOU is the legal basis for the computation of the P21 per cubic meter [rate]. The 3rd party appraiser will determine the appropriate rate which will be passed on to our customers if and when a price increase is inevitable," they explained.
According to sources privy with the interim arrangement, both MPIW and FLO Water will assign their respective appraisers while the Local Water Utilities Administration (LWUA), the government-owned and controlled firm that approves water tariffs, will act as the third-party appraiser.
LWUA's presence in the appraisal setup was meant to shield consumers from exorbitant water rates.
Based on the interim deal, MPIW is willing to pay P11.72 per cubic meter (cu. m.) for the 15,000 cu. m. from FLO Water. This rate is still based on their old contract.
The Manny Pangilinan-led firm is also willing to pay another P18 per cu. m. for another 5,000 cu. m. that will be directly contracted from FLO Water.
The difference will be paid upon signing of the scuttled interim MOU.
In the meantime, MPIW assured that they would be deploying water tanks that will inject water in strategic areas while developing non-revenue water development programs to increase supply and save more water.
This is the second announcement within a month's time that the MPIW announced supply interruptions.
Lower water pressure in some areas of Jaro district and Pavia town were implemented last June 1 after they were notified by Iloilo Primewater Ventures Corporation that it would also cease its supply, as they were not covered by FLO Water's extension-cum-compromise deal.