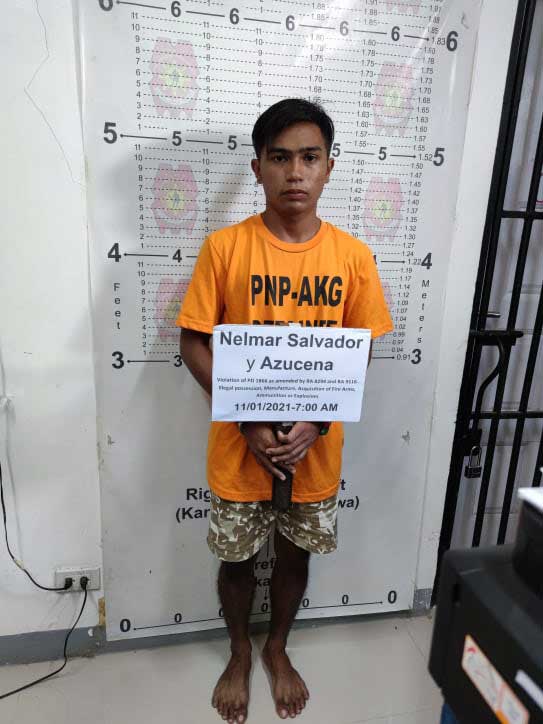 The PNP Anti-Kidnapping Group Visayas Field Unit (AKG-VFU) arrested a person for alleged illegal possession of firearms and ammunition on Nov 1, 2021.
Nelmar Azucena Zalvador, 21, of Brgy. Cano-an, Estancia, Iloilo has allegedly been evading authorities after the arrest of his purported cohort, Gilbert Beirmiza Jocson, by the AKG-VFU on March 29, 2021
Zalvador was apprehended following the manhunt conducted by the AKG-VFU-IBSO (as lead unit) composed of Police Executive Master Sgt. Franco Aguilar, Master Sgt. Jay Balisang, Patrolman Israel Paraon, and Patrolman Reymund Castillo along with two Action Agents.
The Estancia police led by officer-in-charge Lt. Joebert S. Amado and the Provincial Drug Enforcement Unit/Provincial Special Operations Group 3 led by Staff Sgt Bernard B Tanoy were also part of the team.
Roxas City Regional Trial Court Branch 17 Judge Lorencito Belo Diaz issued Zalvador's arrest warrant on Mar 9, 2021 in relation to Criminal Case No. 241-20. He was not allowed to post bail.
The case is for alleged violation of Presidential Decree No. 1866 as amended by Republic Act Nos. 8294 and 9516 (Illegal Possession, Manufacture, and Acquisition of Firearms, Ammunition, or Explosives).
According to police reports, Zalvador has been transferring from one place to another to evade arrest.
The AKG-VFU later received information from an action agent that Zalvador will go home on All Saints' Day, which was later confirmed and led to his arrest.
The PNP unit reported that the suspect was informed of the reason of his arrest which was video recorded using two Alternative Recording Devices (mobile phones) in compliance with Supreme Court AM No. 21-06-08-SC.
The SC order sets the rules on the Use of Body-worn Cameras or alternatives during implementation of warrants.