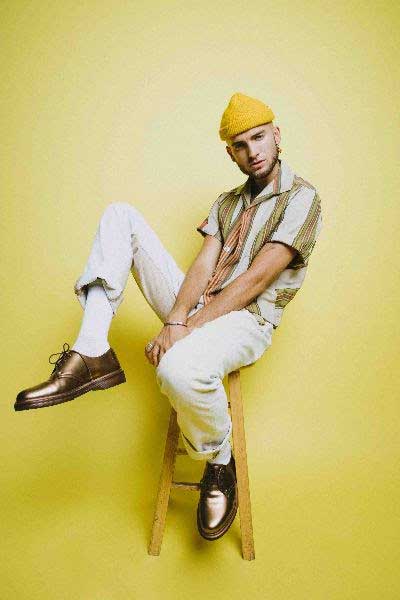 Following the release of his single "Pepper," emerging singer-songwriter and multi-instrumentalist Gavin Haley has unveiled 'Bike Rides Alone', the rising artist's latest body of work, out now via Red Bull Records.
Written by Gavin over the past few months, 'Bike Rides Alone' is his most personal work to date. Across the eight-track project, Gavin gives listeners an intimate look at his upbringing and struggles with anxiety and depression. Finding solace in biking through the mountains, Gavin channelled his energy into music, writing each track as a way to meditate on his past experiences and come to terms with who he is now.
The release of 'Bike Rides Alone' is accompanied by the music video for its single "Garden," which features Gavin burying a version of his former self. Leaving his partner, belongings, and body behind, he ceremoniously closes the chapters of his past, planning to start anew.
"I grew up with four sisters and two brothers; my mom homeschooled us all. I never really felt like I fit in anywhere. When I was younger, the question 'what do you want to be when you grow up?' got asked often. The [typical] answer was 'go to school, get a job, settle down, have a family,'… it scared me to think that you're born somewhere, and you grow up and die in the same place. I've battled anxiety and depression since I was a kid. Of course, looking back now, I didn't know it was that. It was just moments in my head getting too loud. I found freedom and release in riding my bike. It allowed me to forget about the unnecessary pressures and anxieties of growing up," says Gavin of his inspiration behind the EP.
"The start of the pandemic was the first time in a while I've had to reflect. Every year I realize how much more I have to learn and heal. You learn more about yourself and why you are the way you are. What makes this project so special is that I was the only writer. There was no one in the room to tell me what I should or shouldn't say. Creating this project was the same feeling for me when I used to ride my bike as a kid – a way to escape the noise and be here now. I hope people connect with it and that they understand me more."
Throughout an often-unbelievable journey, Gavin gained experience, wisdom, and truth from every trial, tribulation, and triumph and applied it all to his music. The trip brought the Los Angeles-based singer, songwriter, and multi-instrumentalist from competitive athletics and health struggles through various relationships and understanding his unconventional upbringing, split between homeschooling and churchgoing in Louisville, Kentucky.
Along the way, he fashioned an irresistible alternative pop sound with a hip-hop undercurrent offset by acoustic guitar and confessional lyrics. It immediately resonated on singles such as "Jet Lag" and "Show Me," as well as his 2019 debut EP 'Long Game' via Red Bull Records. As he racked up over 70 million total streams in just two years, "Jet Lag" cracked 10 million, while "The Way I Am" featuring Ella Vos exceeded 30 million and was reworked by K-R&B starlet SOLE.
Although based halfway across the globe, Gavin has built a significant fanbase in Asia, with Taipei, Singapore, Jakarta, Quezon City, Bangkok, Kuala Lumpur and Hong Kong in his Top 10 Cities on Spotify based on streams.