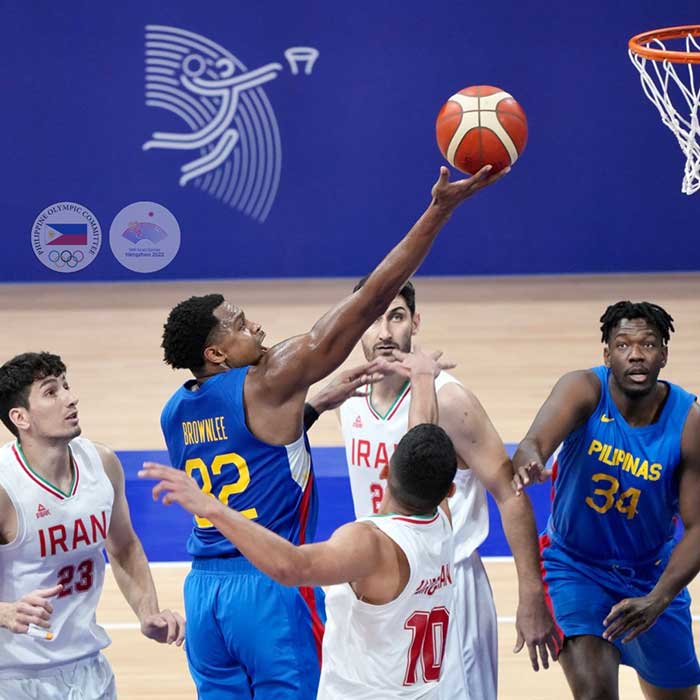 By Leobert Julian A. de la Peña
The Gilas Pilipinas men's national basketball team avoided a disappointing meltdown against Iran, 84-83, during the quarterfinal round of the Asian Games men's basketball tournament last October 3, 2023, held in Hangzhou, China.
Leading by as much as 21 points, the Filipino hoopers saw their cushion evaporate in the final quarter after Iran went unconscious from the three-point line, kicking off the fourth frame with a momentum-changing 13-2 run that forced head coach Tim Cone to call early timeouts.
Despite reminding his guys of the game plan, Iran continued to surge and formally got back into the ball game after trimming their deficit to just eight points, 73-65.
The courageous Iranian rally went on in the next five minutes and inflicted serious panic on the PHL delegation when they piled up the points but a clutch three from Calvin Oftana halted the bleeding for Gilas to help them back up by six points, 78-72.
All hell then broke loose when Iran retook the lead, 80-81, and put Gilas in a pressure-packed situation.
Thanks to an offensive board turned to a bucket by PBA's only six-time Most Valuable Player (MVP) June Mar Fajardo with only 1:20 remaining in the game, Gilas was able to restore order and take a slim 82-81 cushion.
Iran answered with an aggressive drive down the lane for another lead change, 82-83, but Justin Brownlee's cold-blooded game-winner with only 45 seconds left saved Gilas of what could've been an embarrassing meltdown on the international stage.
After popping out from a pick, Brownlee received CJ Perez's pass in the left elbow, began to operate, and drove in the baseline to sink a difficult floater shot that gave Gilas the 84-83 lead.
Iran had the chance to retake the lead after hoisting a wide-open three-point attempt from the right corner but fortunately, the trifecta missed, rewarding Gilas with another possession of the leather.
The challengers fouled Brownlee during the next sequence but failed to use their penalties when Gilas was able to dribble out the last possession in the remaining 7.1 seconds of the quarterfinal showdown.
Brownlee carried Gilas and top-scored the game with 36 big points and eight rebounds while Fajardo added 18 points and eight boards.
Gilas took command of the game early in the first quarter after Brownlee went hot from downtown, drilling his first three attempts backstopped by the scoring of Scottie Thompson and Fajardo.
The PHL national team continued to dictate the pace in the next two quarters before Iran unleashed a fiery offensive run that made things interesting in the fourth.
With the huge victory, Gilas sets up a semifinal showdown against China today, at 8 PM.