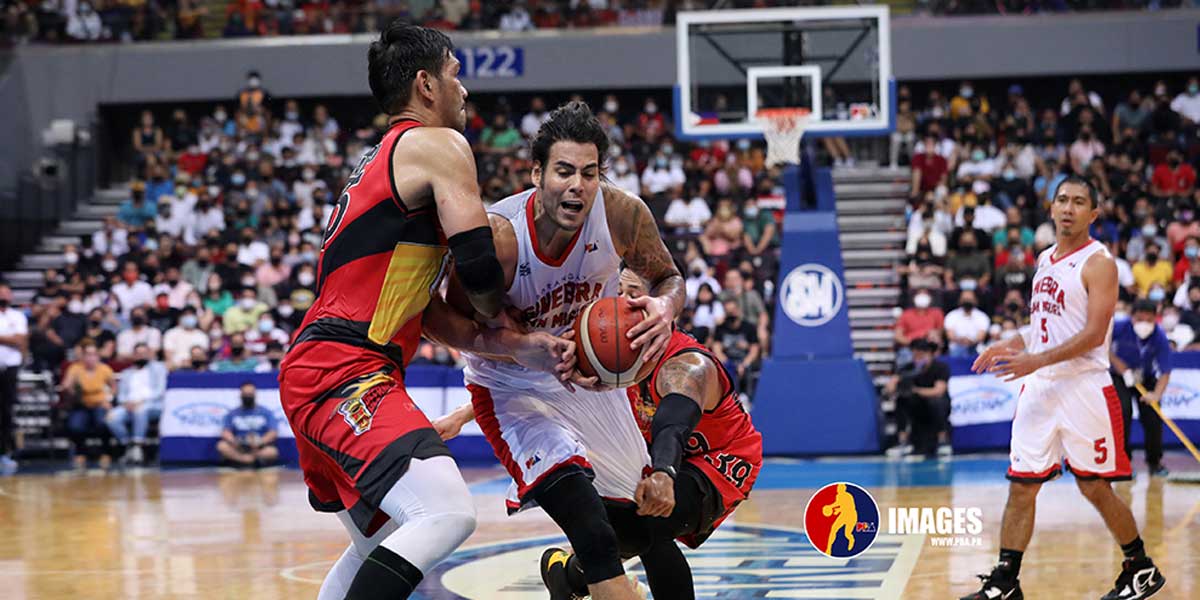 By Leobert Julian A. de la Peña
The Barangay Ginebra San Miguel pulled off an emphatic win and handed the San Miguel Beermen its first loss in the 2022 PBA Philippine Cup, 75-72.
Heading into the matchup oozing with confidence after a 19-point come-from-behind victory over the NLEX Road Warriors in their last game, the revitalized Ginebra squad made the winning plays down the crucial last two-minute stretch to taint the Beermen's undefeated record.
Former Beermen power forward Christian Standhardinger knew it was payback time against his former team and rounded up his performance with an all-around effort including a lockdown defensive game against PBA's six-time MVP June Mar Fajardo and a couple of crucial offensive rebounds which resulted in scores for Ginebra.
Standhardinger finished the dogfight with another double-double tally of 20 points, 10 rebounds, five assists, and four steals.
With the game deadlocked at 72-all at the 1:33 mark of the final canto, Standhardinger scored a crucial drive to the basket against the out-stretched arms of Fajardo to give Ginebra a two-point lead, 74-72.
The Beermen had the chance to counter with a score soon as they pushed the ball but a Simon Enciso careless pass cost them a crucial possession with 45 seconds left in the game.
After a missed basket by Ginebra, San Miguel had another chance to win the game or force overtime after an isolation play designed for CJ Perez but reigning PBA MVP Scottie Thompson recorded the game's biggest stop after swiping the ball out of his hands.
LA Tenorio was then fouled and iced the game with his game-winning free throw and helped the Gin Kings take over the no.1 spot in the standings with a 4-1 win-loss record.
Despite the absence of superstar guards Chris Ross and Terrence Romeo and veteran forward Vic Manuel, the Beermen still put up a valiant fight and was able to clinch a 64-62 lead after an Enciso trey in the right corner but crumbled in the last one minute of the mano-a-mano clash.
The Beermen were led by Enciso's 18 big points and became his best-scoring game since getting traded from the Blackwater Bossing and was backstopped by Perez's 17 points and Marcio Lassiter's 10.