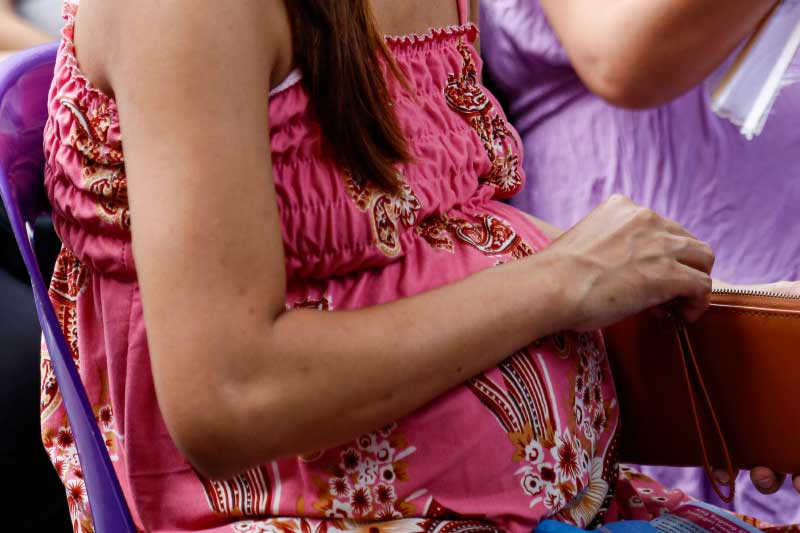 Several groups lauded the passage of House Bill 8910 or the "Adolescent Pregnancy Prevention Act" in the third and final reading by the House of Representatives.
HB8910 was unanimously approved by 232 House lawmakers.
Independent child rights organization Save the Children Philippines called on the Senate to follow suit with swift legislative actions to pass their version of the bill (Senate Bill 1979).
The approval of the Adolescent Pregnancy Prevention Bill is a crucial step towards establishing a comprehensive policy to address the prevalence of adolescent pregnancy and recognizing the sexual and reproductive health needs of adolescents.
"I thank the legislators for this huge support to young girls like me. At 16 years old, I had struggles in the family and made immature decisions that resulted in my early pregnancy. It was difficult with no one to help me. I suffered from discrimination in the school and community," shared Simbiat, a young child advocate of Save the Children Philippines.
Save the Children Philippines is advocating for the immediate passage of the bill as early and unintended pregnancies are still prevalent and cases of girls 10-14 years old getting pregnant are increasing according to the Commission on Population and Development (CPD).
"When pregnancies and births happen to girls before their bodies are fully developed, they face higher risks not only for the adolescent mother but also for their child. Complications during pregnancies are also the leading causes of death among adolescents. Meanwhile, adolescents are more likely to drop out of school, and limits their potential and full development," said Shebana Alqaseer, Save the Children Philippines' technical adviser on Adolescent Sexual and Reproductive Health and Rights
Save the Children called on the public to strongly support the bill which will also provide social protection for adolescent parents and their children, and create a system to improve the capacity of the government to respond to sexual and reproductive health concerns of adolescents.
Meanwhile, Oxfam Pilipinas and its partners commend the approval of the bill that seeks to prevent unintended pregnancies among young Filipinos and promote their adolescent sexual and reproductive health and rights in the House of Representatives on Tuesday.
The decision came during the global celebration of World Sexual Health Day, which underscores the significance of comprehensive sexual and reproductive health and rights for all.
According to Oxfam Pilipinas Executive Director Erika Geronimo, this achievement represents a crucial milestone towards implementing gender-responsive and inclusive interventions to address the drivers and the negative impacts of adolescent pregnancy.
"We are one step closer to creating a society where the sexual and reproductive health and rights of young people are safeguarded and they are able to make informed choices about their future," Geronimo said.
The Adolescent Pregnancy Prevention Bill aims to prevent unintended adolescent pregnancies anchored on the empowerment of adolescents and their rights to health and development.
It also institutionalizes social protection programs for them and their children, including adolescents' access to reproductive health services without parental consent under certain conditions.
The University of the Philippines Center for Women's and Gender Studies (UPCWGS) also commended the bill's passage at the lower house, citing its pivotal role in upholding the sexual and reproductive health and rights of adolescents.
A similar bill filed by Senator Risa Hontiveros is currently pending second reading at the senate.
UPCWGS Director Dr. Marby Villaceran urged the Senate to prioritize the bill
"We applaud the significant advancement of the Adolescent Pregnancy Prevention Bill which upholds the sexual and reproductive health and rights of adolescents. We now urge the Senate leadership to similarly prioritize this vital bill during its second reading," Villaceran said.
The Women's Global Network for Reproductive Rights (WGNRR) called the legislation a "significant stride toward realizing sexual reproductive health and rights for all".
"We will continue to work with advocates until this measure becomes law. We also reiterate our persistent calls for the full implementation of comprehensive sexuality education and the removal of parental consent requirements for young people's access to modern contraception," WGNRR Youth Sexual Reproductive Health and Rights Officer Danica Shahana Magtubo said.
Geronimo also cited the current gap in implementing the comprehensive sexuality education (CSE) in schools, the urgent need to establish more adolescent-friendly health facilities, and the provision of age and development-appropriate sexual and reproductive health education in formal and non-formal educational settings.
"Together with our allies, we continue to urge our leaders to take a stronger stance in ensuring a healthier and more equitable future for young Filipinos," Geronimo added.
It can be recalled that the Commission on Population and Development declared adolescent pregnancy a "national social emergency" in 2019.
Since then, the number of teenage pregnancies among 15-19 years old has declined from 8.6% in 2017 to 5.4% in 2022, based on the 2022 National Demographic and Health Survey (NDHS), attributing to the COVID-19 lockdowns.
However, concerns have been raised over the alarming high number of early pregnancies among those aged 10-14 years old, which is about 2,000 pregnancies recorded across the country.
Oxfam Pilipinas and its partner organizations, including UPCWGS and WGNRR, recently concluded a learning session at San Roque National High School in Antipolo Rizal where students learned more about consent as part of the celebration of the World Sexual Health Day.
This activity is part of the Sexual Health and Empowerment (SHE) Project that aims to improve the access to sexual and reproductive health and rights information and services of 85,000 women and adolescent girls and boys across 13 disadvantaged and conflict-affected provinces in the Philippines.
Oxfam Pilipinas is a humanitarian, development, and campaigning organization that has worked with partner organizations nationwide for 35 years for a just and equal future without poverty.