The year 2021 closed with the annual rate of change on food prices peaking at 5.6 percent in December 2021.
This is the fastest food inflation recorded in 13 months, mainly due to price hikes in six heavily weighted food commodity items, according to data released by the Philippine Statistics Authority (PSA).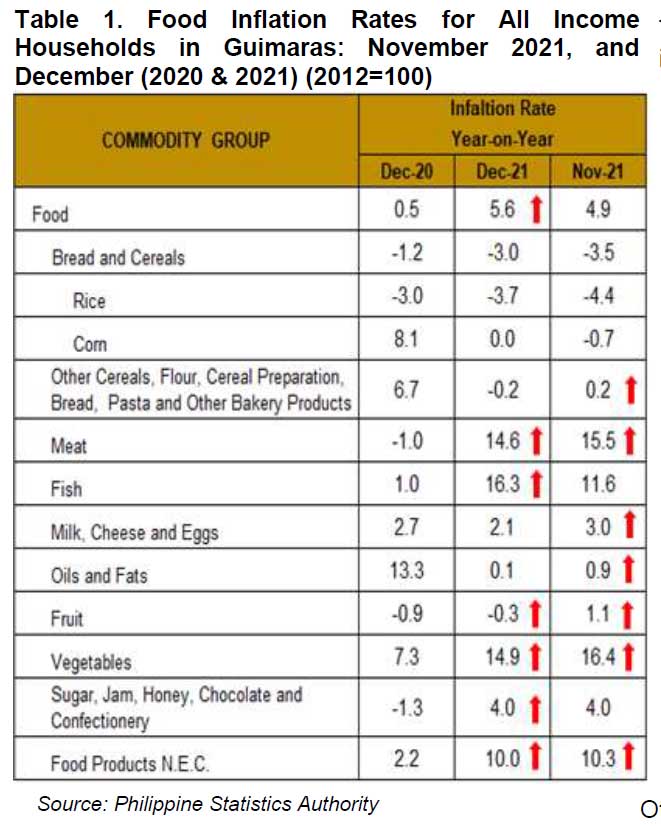 The six food commodity group items that recorded higher annual markups in December 2021 and contributed to faster movement of inflation rate were:
Meat, from -1 to 14.6 percent
Fish, from 1 to 16.3 percent
Fruit, from –0.9 to –0.3 percent
Vegetables, from 7.3 to 14.9 percent
Sugar, Jam, Honey, Chocolate and Confectionery, from –1.3 to 4 percent and
Food Products N.E.C., from 2.2 to 10.0 percent
Comparing the annual rate of change for November and December 2021, seven food commodity groups posted higher price change levels in November than in December 2021, namely:
Other Cereals, Flour, Cereal Preparation, Bread, Pasta and Other Bakery Products at 0.2 percent
Meat at 15.5 percent
Milk, Cheese, and Eggs at 3 percent
Oils and Fats at 0.9 percent
Fruit at 1.1 percent
Vegetables at 16.4 percent, and
Food Products N.E.C. at 10.3 percent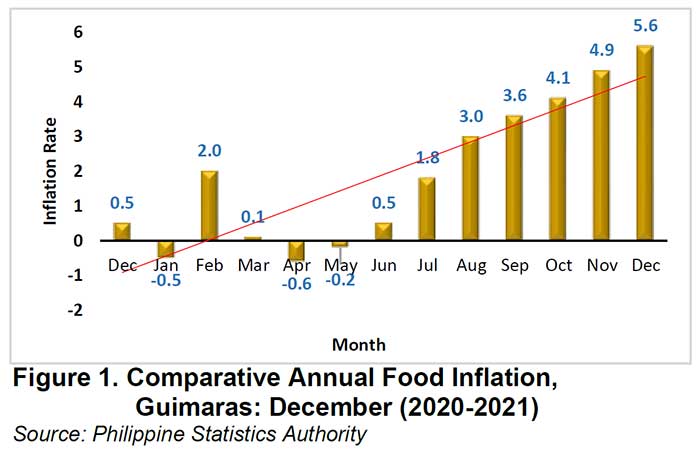 Comparing food inflation trends of Guimaras Province for 13 months (December 2020 to 2021), the current 5.6 percent inflation rate is the fastest rate of change, which is 5.1 percentage points faster than 0.5 percent inflation in December 2020 and 1.4 percentage quicker than in November 2021.
Inflation in 2021 started at a slower pace of -0.5 percent in January, before jumping to 2 percent in February then dropped to 0.1 percent in March and further to –0.6% in April 2021, the slowest rate in 12 consecutive months of 2021 pulled down by slower price movement of seven food commodity items.
From then, inflation moved a bit faster at 0.5 percent in June and continued to escalate until it peaked to 5.6 percent inflation rate in December 2021.