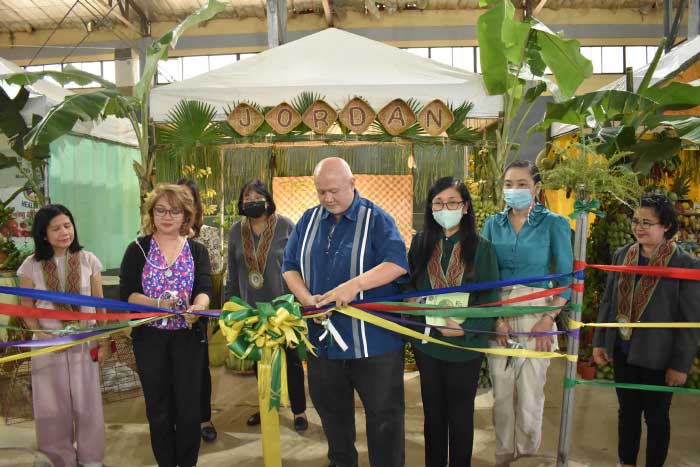 The Province of Guimaras hosted the launching activity for the celebration of 2023 Nutrition Month in Western Visayas on 6 July 2023 at the Provincial Covered Gym in San Miguel, Jordan, Guimaras.
National Nutrition Council (NNC) Region 6 OIC – Regional Nutrition Program Coordinator presented the gist of the theme for this year's Nutrition Month Celebration that is "Healthy Diet gawing affordable For All".
The activity was graced by no less than Assistant Secretary Azucena M. Dayanghirang of the National Nutrition Council.
Asec. Dayanghirang explained that the theme is an answer to the alarming number of Filipinos who face severe food insecurity or have nothing to eat a day, which reaches 5.3 million.
"Because the statistics are alarming, they demand our immediate intervention. And this is the reason why that this year, we have decided to launch the theme 'Healthy diet gawing affordable for all'," she said.
Asec. Dayanghirang emphasized that eating proper nutrition starts in every home where parents should teach their children to eat nutritious food, especially fruits and vegetables.
Although the National Nutrition Council admitted that it is a challenge to make a healthy diet affordable for everyone, the initiatives, strategies, activities to reduce the price of food contained in the Philippine Plan of Action for Nutrition 2023-2028 will answer to this challenge according to Dayanghirang.
"Meron tayong mga challenges. But there is hope. Ano yung pag-asa natin? Ang pag-asa natin, we have the new Philippine Development Plan 2023 to 2028. And a companion plan of the Philippine Development Plan is the Philippine Plan of Action for Nutrition 2023-2028," she added.
Dayanghirang said that with the cooperation of various agencies, the goal that no Filipino will go to bed hungry, will be achieved.
In his message, Governor JC Rahman A. Nava said that the nutritional status of a family is usually dictated by the income of a household.
He said that food security is the answer to the challenge of how to make healthy diet affordable for every Filipino.
"Everything boils down to the economic status of each and every household. Kun ano ang economic status amo ni ang nagadikta man kun kaisa or most likely sa nutritional status man sang pamilya. Kag ang challenge sang aton nga tema subong nga how to make it affordable for all… so, it boils down to food security always," Governor Nava said.
Nava underlined that his administration's Kabataan FIRST agenda can answer this challenge as it aspires to give every Guimarasnon household a higher income.
"We in the Provincial Government recognizes that. That's why we came up with the Kabataan FIRST agenda that guarantees economic benefits sa aton populasyon," he said.
Nava appeals to all stakeholders particularly the Barangay Nutrition Scholars (BNS) and barangay officials to be the regular partners of the Provincial Government in its pursuit to make healthy diet affordable for all Guimarasnons.
"Kabay nga through this program ma-remind kita nga ang solusyon maumpisa gid sa aton nga panimalay kag halin dira ipasangkaron naton sa aton komunidad para magarantiya naton nga ang pagkaon mangin affordable gid sa tanan-tanan. So, I hope makaabot kita sa handum naton nga wala na sang malnourished nga bata sa probinsiya sang Guimaras. The Provincial Government is committed to do its share just to guarantee that healthy diet is affordable for all," Nava assured.
Meanwhile, one of the highlights of the Regional Nutrition Month launching activity is the Vegetables and Fruits Expo participated by the five municipalities in the island province. The Municipality of Buenavista was declared winner.
Another activity was the cooking demonstration where nutritious, affordable food for pregnant women and 6-23 months old children were prepared.