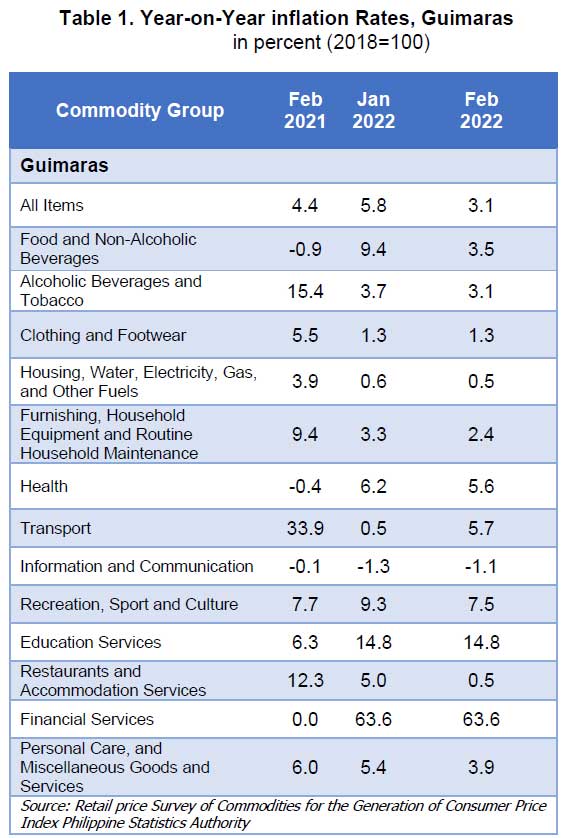 Guimaras' headline inflation rate for February 2022 slackened to 3.1 percent, slower by 1.3 percentage points than the February 2021 rate pulled down by the slower price movements on ten commodity group items, disclosed by the result of the Survey on Retail Prices on Commodities rebased to 2018 by the Philippine Statistics Authority (PSA).
"This simply means that the cost of goods purchased in February of this year was 1.3 percent lower than the prices of products purchased in February 2021 and January 2022," Provincial Statistics Officer Nelida B. Losare, said.
Losare also explained that the decline in the overall inflation was mainly due to the slower annual price movements of the following commodity group items:
Alcoholic Beverages and Tobacco, 3.1% inflation;
Clothing and Footwear, 1.3%
Housing Water, Electricity, Gas, and Other Fuels, (0.5%
Furnishings, Household Equipment and Routine Household Maintenance, 2.4%
Transport (5.7%)
Information and Communication, -1.1%;
Recreation, Sport and Culture (7.5%)
Restaurant and Accommodation Services (0.5%); and Personal Care and
Miscellaneous Goods and Services (3.9%).
The annual price changes were faster in the indices of the following:
Food and Non-Alcoholic Beverages at 3.5 percent;
Health at 5.6%; Education Services at 14.8%; and
Financial Services (63.6%).
Only three commodity groups retained their levels a year ago, namely:
Clothing and Footwear. 1.3 percent;
Education Services (14.8%);
and Financial Services at 63.6%).
The results of the Retail Price Survey of the PSA, which generated a Consumer Price Index (CPI) of 114.8 for February 2022, indicated that an average Guimarasnon household needs 14.8 pesos more in February 2022 to buy a basket of goods worth 100 pesos in 2018.

Figure 1 shows the February year-on-year inflation rates throughout the four consecutive years, was a bit steady from 2019 to 2021 and suddenly dropped to 3.1 percent in February 2022.