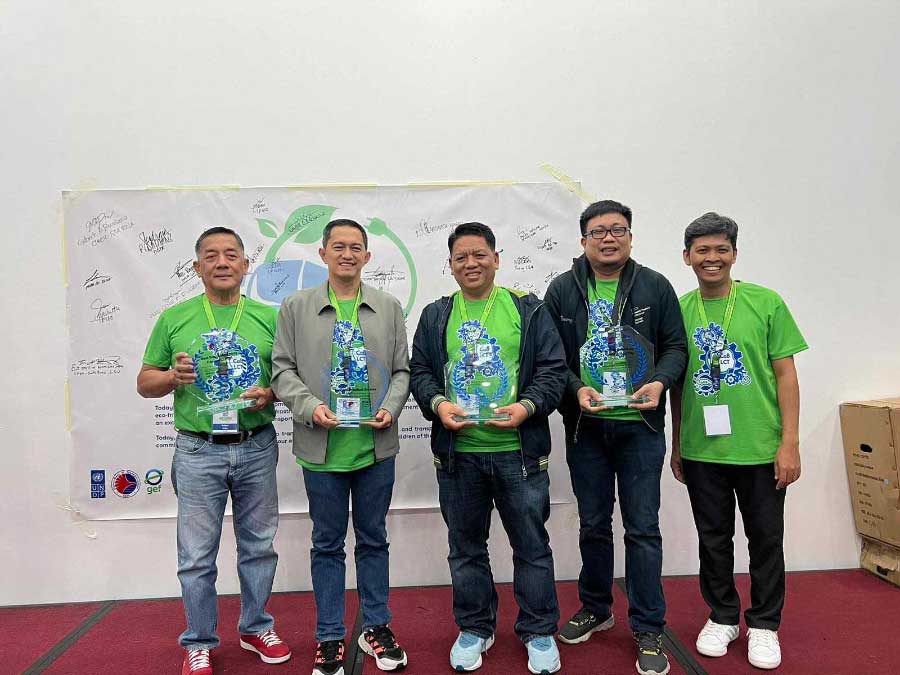 By Rjay Zuriaga Castor 
The city government of Iloilo is moving forward to promoting environmentally sound technologies, following its recognition of its plans and programs in forwarding a low carbon transportation system.
The city received the Most Progressive Low Carbon Transport City, Best Action Plan to Support the Pilot City REAP (Re-entry Action Plans), Best Social Media Marketing Plan, and Highest Posttest Scores awards in the culmination program of the Capacity Building of National Government Agencies and Local Government Units on Low Carbon Transport Project (CaB-LCT) at UP Diliman on August 31.
The CaB-LCT is an initiative of the United Nations Development Program in collaboration with the Department of Transportation (DOTr) and the Up National Center for Transportation Studies Foundation Inc.
The project's overarching goal is to enhance the capacities of national and subnational institutions and stakeholders in developing and integrating sustainable and low-carbon transportation strategies in their policies, plans, and programs.
"Iloilo City is most honored to receive the latest awards. While we are always humbled and honored by these awards, the whole City Government will strive to be deserving of them and will always strive to be better," said Mayor Jerry P. Treñas.
Iloilo City was chosen as one of the project's pilot cities, alongside Baguio City, Pasig City, and Santa Rosa City in Laguna, due to its proactive implementation of bike-sharing systems, dedicated bike lanes, electric vehicles, and low-carbon transportation policies.
With its eleven-kilometer bike lane at the Diversion Road and selected roads, Iloilo City is dubbed as the "Bike Capital of the Philippines.
In his State of the City Address in August this year, Treñas said the city government is eyeing to install a bike-sharing system through a mobile application, allowing Ilonggos to conveniently rent bikes for short or long distances.
A proposal for a bus rapid transit system in the city is also currently under review.
The Iloilo City team is led by Public Safety and Transportation Management Office (PSMTO) head Jeck Conlu, City Environment and Natural Resources Office (CENRO) head Engr. Neil Ravena, and representatives from the City Planning and Development Office, the City Engineer's Office, and the Public Information Office.
Conlu said the low-carbon transport project can bring about positive changes in the city's transportation system by improving connectivity and making it more accessible and convenient for people to use both modern transport and active mobility options.
"It will lower our traffic congestion, and promote clean air and health. It promotes a sustainable and efficient transportation system," he added.
The CaB-LCT project comprises several critical components, encompassing the development of a framework and assessment tool, a needs assessment, training module design, training program implementation, action plan facilitation, consolidation of training modules and outputs, and the development of REAP.
REAP is a deliverable for project beneficiaries upon completing the training program. It outlines identified gaps, objectives, measures, milestones, and performance indicators to monitor project implementation progress.
The REAP format will be used by the pilot cities to address their respective challenges, priorities, and requirements for the implementation of a low carbon transport system.
Iloilo City conducted its REAP workshop on May 11, 2023. The workshop includes the refinement and completion of the REAP to ensure that the plan is comprehensive and well-structured.
The REAP workshop was participated by representatives from the city government, local government of Pavia, DOTr, Land Transportation Franchising, and Regulatory Board, and Department of the Interior and Local Government.