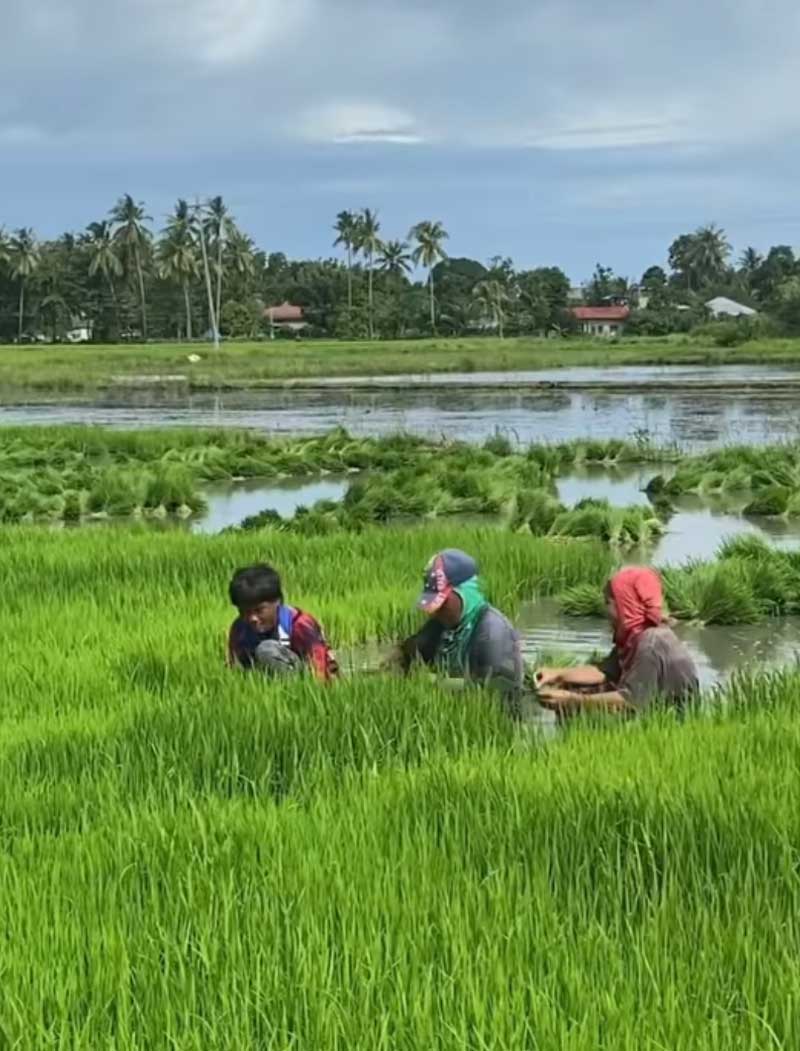 By Joseph Bernard A. Marzan
Iloilo Provincial Agricultural Office (IPAO) chief Ildefonso Toledo on Wednesday said farmers in the province can weather the looming dry spell as they continue preparing for the El Niño season, which is expected to start in September 2023.
Toledo said that with the scarcity of water and below-normal rainfall levels, IPAO has already provided small-scale irrigation and small water impounding projects, among other assistance projects.
Rains in the past few weeks are expected to increase levels in water sources, enough to cushion the effect of El Niño.
"Nowadays, it is still raining. We are looking at the gathered supply, and we think that it can sustain the [rice] harvest. […] If we planted by May or June, we expect to harvest by November. While El Niño is intensifying, we believe that it won't quickly affect the water supply," Toledo said.
He also cited the Climate Field School in Dumangas town as helpful to farmers in response to and management of El Niño.
"If you ask me if there is a contingency plan in terms of addressing this extreme event, they are already onboarded to our regular program," he said.
The current rice self-sufficiency rate in Iloilo province, according to Toledo is at 163 percent, and they are targeting a yield of 5.5 metric tons (MT) this year.
The province has a total rice area of 137,000 hectares, and the IPAO's latest data is that they have at least 132,000 hectares being used for rice farming, with the irrigated area at more than 40,000 hectares.
HYBRID RICE
Toledo also touted the hybrid rice program, which they consider to be their "leveled-up" rice program aimed to help more rice farmers.
It is expected to increase rice yield, with a target of 6,000 hectares for 2023, and the first 3,000 hectares of standing crop already released.
The first run of the program is expected to yield up to 4 metric tons per hectare, which may translate to up to 12,000 MTs of harvested rice.
This will complement the current batch of inbred rice already planted and scheduled for harvest later this year.
Iloilo province is entitled to receive seeds for up to 60,000 hectares from the Department of Agriculture, and he is confident that they may be able to plant the said number.
"Imagine that if the 3,000 we are planting now, the governor is saying 5.5 [MT] per hectare, our modest count is that with 4 [MTs] per hectare, we will be having about (sic) 12,000 [MTs] of rice," he explained.
With the increase in prices of fertilizers and pesticides, Toledo said that they would explore other fertilizer forms, given that biofertilizers would suit hybrid rice.
Part of the unirrigated portion of the province's total land for rice may be used by rice farmers for the planting of hybrid rice.
He added that they would continue to release both hybrid and inbred rice species seeds to farmers.
"We are hoping with the scaled-up rice program, it could be provided with a small-scale irrigation project, and we could still have rainfed areas to be irrigated. It is one of [our] priority programs," he said.
RICE INFLATION
Iloilo Governor Arthur Defensor Jr. also addressed the rising prices of rice on Wednesday, saying that he would organize a Price Council meeting soon to be able to rectify this.
He also vowed to touch base with rice sellers in the markets to personally see what had happened, focusing on the root cause of local rice inflation here.
"We don't want that to happen, the rising prices of rise. We don't want inflation to happen to our basic commodities including rice. But let's find out [about] the rise in the prices," the governor remarked.
"It comes from somewhere, decreasing supply, for example, because we import rice at the national level, but let us examine first so we would know the interventions," he added.
The governor hopes that the hybrid rice would also increase their supply, which may also lead to decreases in demand and in turn, actual prices.