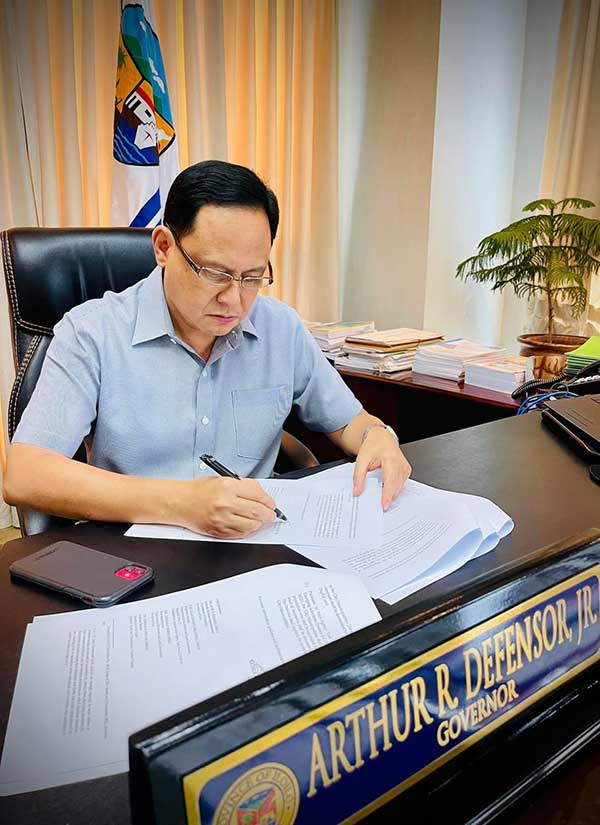 By Joseph B.A. Marzan
Following its completion of the 3-day national vaccination days on Nov. 29 to Dec. 1, 2021, the Iloilo provincial government is now gearing up for its own coronavirus disease 2019 (COVID-19) vaccination drive next week.
Iloilo Governor Arthur Defensor Jr. on Wednesday, Dec. 8, issued a memorandum to all city and municipal mayors and village chiefs in the province, on the conduct of Bayanihan Bakunahan Part II on Dec. 15 to 17, 2021.
Iloilo province is composed of 42 towns and the component city of Passi.
Under the memorandum, city and municipal health officials have been requested to conduct pre-registration at the barangay level with the help of barangay officials, and other barangay functionaries including tanods, health workers, service points officers, nutrition scholars, and day care workers.
House-to-house pre-registration is also encouraged if practicable.
The provincial government is also set to conduct the Brigada Bakuna on the same dates as part of the new inoculation blitz.
It will be conducted at strategic high school campuses identified in partnership with the Department of Education and city and municipal governments.
This will involve pediatric vaccination of high school students and their family members along with distribution of self-learning modules.
City and municipal governments are also empowered by the memorandum to give incentives to successful vaccinees, with the provincial government willing to provide help.
Iloilo Provincial Health Office (IPHO) data as of Dec. 4 covering the 3-day National Vaccination Days last week indicated that 137,555 individuals got vaccinated – 125,101 for the first dose, 10,365 for the second dose, and 2,089 booster shots.
The Philippine News Agency reported last Dec. 1 that the national government is also willing to conduct a nationwide "Part 2" of the 3-day COVID-19 vaccination blitz on the same dates.
IPHO's total vaccination data as of Dec. 5 indicated that 544,351 individuals in the province have been fully vaccinated out of 912,404 who received at least the first dose of the vaccine.