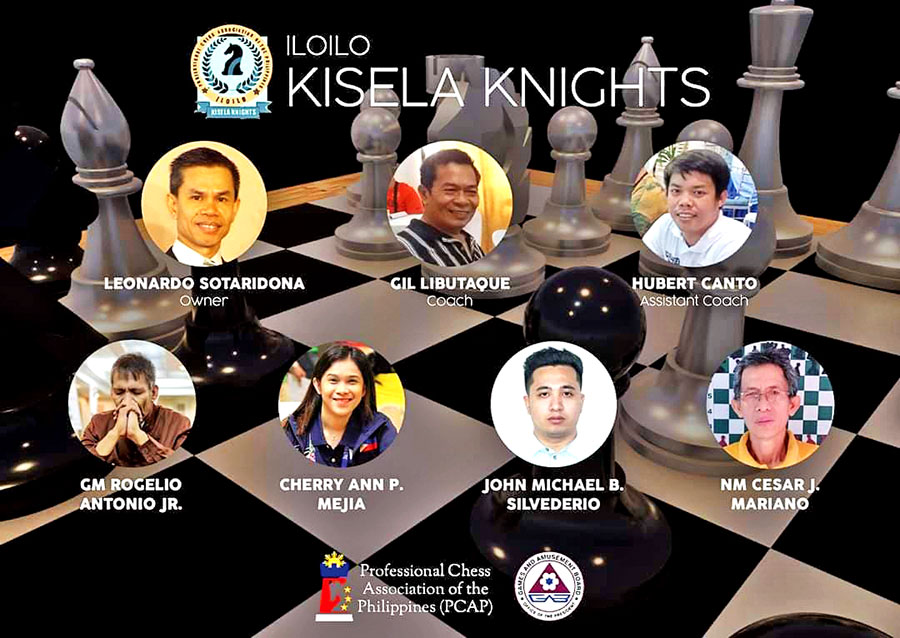 By Leobert Julian A. de la Peña
The Iloilo Kisela Knights is a team on a mission and dominated once again in the Professional Chess Association of the Philippines (PCAP) Day 14.
With huge wins over the Cebu City Machers and the Zamboanga Sultans, the Kisela Knights are currently on a six-game winning streak and is currently part of the top five overall teams in the tournament.
Picking up where they left off during PCAP Day 13, the Kisela Knights asserted their dominance against Cebu in their first match of the day.
It was all business for the Iloilo chess squad as they convincingly won in both the Blitz and Rapid categories, 5-2, 11-3 respectively to end the matchup, 16-5.
NM Giovanni Mejia, Karl Viktor Ochoa, Cherry Ann Mejia, Cesar Mariano, NM John Michael Silvederio, Fritz Bryan Porras, and Lloyd Lanciola delivered the wins for the Blitz category to immediately grab the much-needed momentum.
Meanwhile, soon as the Rapid category started, GM Joey Antonio Jr. led the onslaught together with Mark Jossel Mariano.
After the Cebu showdown, the Kisela Knights faced the tough chess players from Zamboanga and was a tightly-contested match with Iloilo prevailing, 12.5-8.5.
It was a tie in the Blitz category where both squads only scored 3.5 each but the Kisela Knights only dropped two boards and emerged victorious with a clutch play in the remaining five boards during the Rapid category.
On March 10, Iloilo will have a chance to equalize their series against their southern division top rival, the Negros Kingsmen.