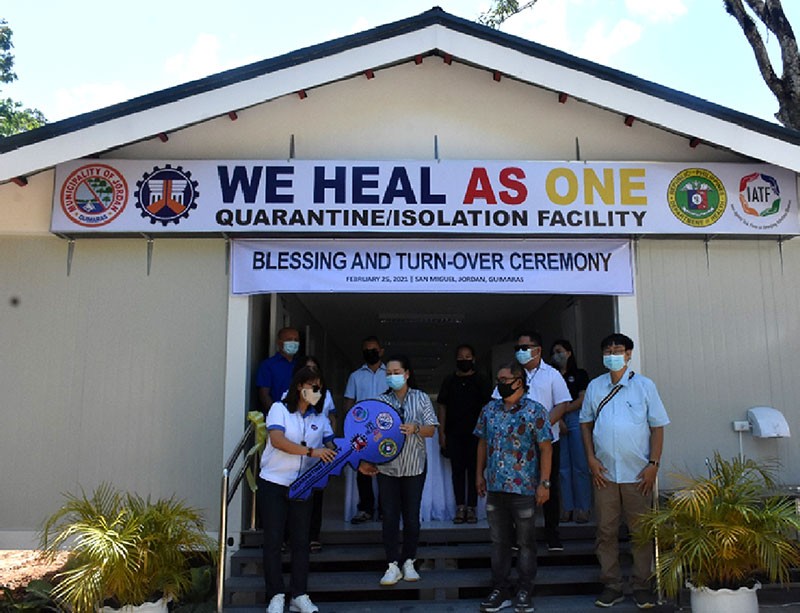 Regional Director Lea N. Delfinado of the Department of Public Works and Highways (DPWH), Regional Office VI recently turned over the completed Isolation/Quarantine facilities in Buenavista and Jordan towns in Guimaras province.
The facilities will be used as temporary shelter/facility for treatment of COVID-19 related patients in the island.
The blessing and turn-over ceremony was attended by Guimaras Gov. Samuel T. Gumarin, Rep. Ma. Lucille L. Nava and Vice Governor John Edward G. Gando in Jordan and Mayor Eugenio G. Reyes in Buenavista.
Delfinado said the facilities include a 16-room (container van) building, furnished with individual air conditioning unit and comfort room.
Also included in the project is the provision of male and female nurse stations, utility room, generator/power transformer and water tanks.
"With these facilities, we can enable immediate isolation in order to lessen the number of COVID-19 related cases in Guimaras and can further reduce the risk of spreading the virus in the community," Delfinado said.
On behalf of the people of Guimaras, Gumarin thanked the DPWH for providing facilities which will boost the province's readiness to fight COVID-19.
"We thank the DPWH, one of our development partners. We needed these projects for us to thwart local transmission of the virus here in the province and we can only do this if we immediately isolate our positive cases," Gumarin said. (DPWH/RPAIO6)