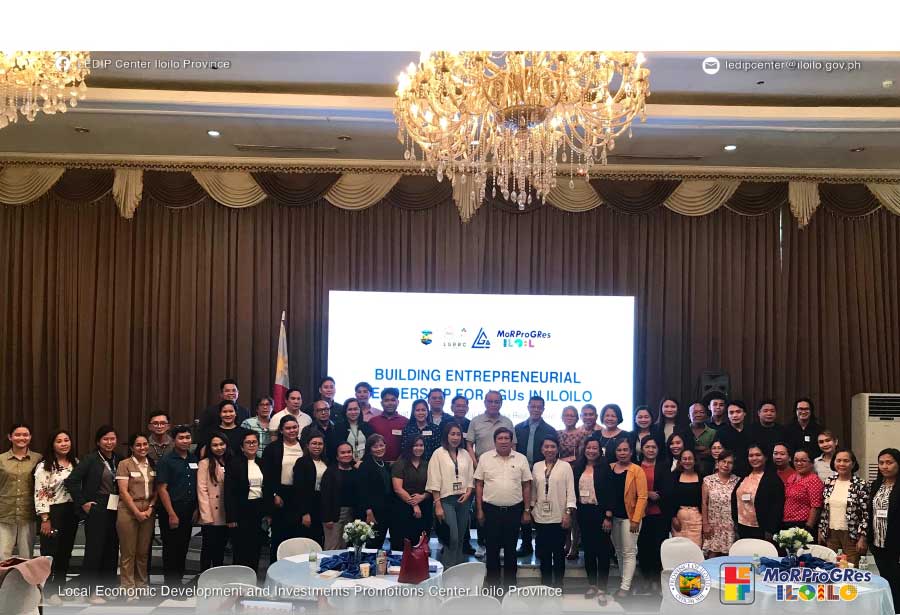 By Rjay Zuriaga Castor
The provincial government of Iloilo conducted an entrepreneurial leadership orientation to its local government units (LGUs) with an aim to steer the creation of a business-enabling environment and promote policies and practices that will encourage local investments.
The leadership orientation was facilitated by the Local Economic Development and Investment Promotion (LEDIP) Center and the Department of the Interior and Local Government-Region 6 (DILG-6) on August 14 to 15 at Casa Real de Iloilo.
"The conduct of the entrepreneurial leadership orientation for LGUs is one of the immediate and important actions to champion LED in the locality towards maximizing agricultural products and create [a] value chain for agricultural products to generate employment and investment for a robust, globally-competitive and resilient province of Iloilo," LEDIP Center officer-in-charge Aulynn B. Yue Sin said.
Sin emphasized that when LGUs adopt an entrepreneurial approach, local leaders collaborate with local businesses and civil society organizations to maximize the locality's competitive advantage and opportunities for sustainable economic growth.
DILG-6 Regional Director Juan Jovian Ingeniero said adopting an entrepreneurial mindset could be a game-changer for local economic development.
"With the crucial role of local economic development in creating job opportunities, attracting investments, and improving the overall quality of life for residents, shifting our approach towards an entrepreneurial mindset can be a game-changer," he said.
Dr. Aser Javier, the orientations' resource speaker, pointed out how the government has the authority to empower local units, and he shared ways they can use these powers to become self-sufficient communities.
He also stressed that LGUs and LEDIPOs need to collaborate with private sectors, the academe, and national government agencies to secure opportunities for economic and business
development, as well as increase local employment.
Javier is a faculty at the Asian Institute of Management and an international governance consultant for projects which promote good governance and policy building.
Members of the newly-created Iloilo Local Economic Development and Investment Promotions Officers Association (ILA) also took their oath of office on the last day of the orientation. The association is already registered with the Securities and Exchange Commission.
The creation of ILA seeks to ensure a systematic, coordinated, and sustained collaboration among the LEDIPOs in the province.
The entrepreneurial leadership orientation is the first in Western Visayas and the creation of a province-wide association of LEDIPOs is the first in the whole country.