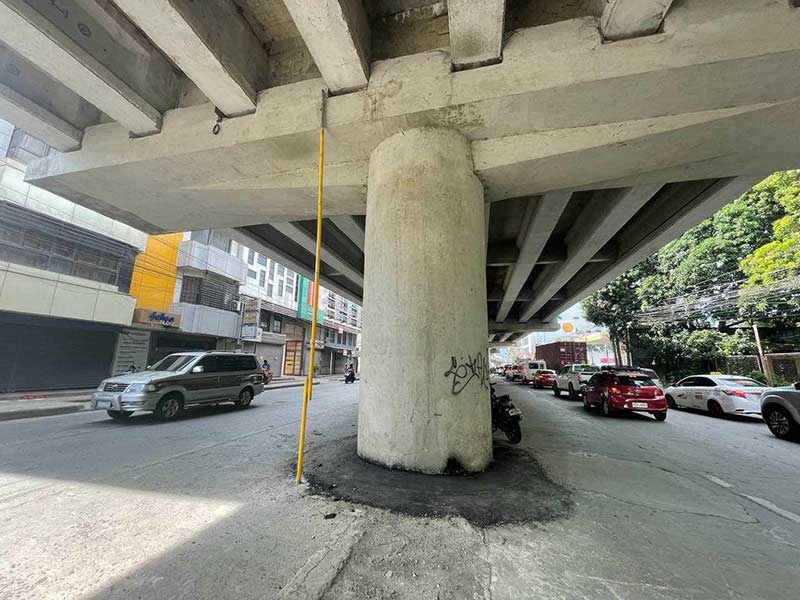 By Rjay Zuriaga Castor and Mariela Angella Oladive
Ilonggos have mixed reactions to the pronouncement that the defective P680-million Ungka flyover will be partially opened to light vehicles this week, with many seeing this decision could help ease traffic congestion.
"Mayo kay para mahagan-hagan ang traffic," said Larry, a 63-year-old taxi driver.
Larry pointed out that the flyover was not constructed just so it could be displayed to the public.
"Kon indi maabrehan na 'da, ano na dekorasyon?" he told the Daily Guardian.
He added that this would help save them money considering the steep prices of various commodities and services, particularly gasoline.
Modernized jeepney driver Jeffrey Tuarez said that he would be grateful if the flyover would be opened soon since it would reduce his travel time.
"Nagapasalamat gid kami nga mga driver kon maabrehan nila ang flyover, kay bisan indi kami ya kaagi nga mga traditional kon ang private [vehicle] sa babaw lang nila paagyon, maminimize ang aton traffic […] Nagapasalamat gid kami sang dako kon maabrehan nila. Kabay pa," he said.
Only four-wheeled vehicles, including traditional and modernized jeepneys, will be allowed to use the flyover once reopened.
Motorcycles, tricycles, and bicycles are barred from traversing the superstructure due to safety concerns.
College student Nove Joy Losbañes, who commutes daily from Santa Barbara, expressed concerns about the reopening, particularly regarding the safety of both commuters and drivers.
"Tuod nga makabulig siya gawa hagan-hagan ka traffic, I don't think nga maging safe siya sa mga commuters kag drivers kay una, maski indi siya gani bukas sa publiko, nakita nga palpak gid ana foundation kag tama ka visible ang pag usmod and even ang mga cracks," she said.
Losbañes reiterated that the safety of the residents should not be compromised in an attempt to ease traffic congestion.
For Alekzandria Padrones, also a student from Santa Barbara, the move to reopen amid safety concerns proves that the construction of the flyover is a failure and a waste of the taxpayer's money.
"Bisan buksan pa nila ini sa publiko, makahatag man ini dang unnecessary nga kahadlok ukon kakulba sa mga nagaagi diri," she added.
Padrones added that she cannot rule out the fear of using it given the previous structural issues of the flyover.
Iloilo province 2nd district Representative Michael Gorriceta said that since DPWH-6 is still waiting for the budget for the rectification measures for the flyover, it would be a prudent choice to consider opening it for the passage of light vehicles.
"Kun wala pa man kita pondo nga sigurado gid nga mabaton this 2023, might as well pabuksan ta na lang kung safe man lang nga paagyan sa light vehicles," he said.
On September 11, Gorriceta wrote DPWH requesting an update on the results of the third-party investigation.
"My constituents have been continually apprehensive about the inconveniences caused by its closure and repair […] The reopening of a few lanes of the flyover would greatly improve the traffic flow and ease the burden of the people passing this route," his letter reads.
He noted that a greater influx of motorists is expected with the approaching holiday season, making the area even more congested.
Meanwhile, Jeck Conlu, head of the Iloilo City government's Public Safety and Transportation Management Office (PSTMO), said that with the expected surge in traffic and economic activity, the decision to open it to light vehicles could not have come at a better time.
"Sa October may additional increase na ini asta ni siya November and December. Increased volume of vehicles, increase of traffic […] sa Iloilo City kag sa Pavia […] For us (PSTMO), it would better kung open natun," he said.
"We will support [DPWH-6] para sa katawhan kag para sa smooth traffic flow," he added.
Iloilo City Mayor Jerry Treñas said the move to partially open the flyover will undoubtedly enhance the traffic conditions in the area.
"I support the decision of DPWH to open the inner lanes of the ungka flyover to light vehicles. While the funds for the complete repairs are not yet available, opening the inner lanes of the flyover to light vehicles will definitely improve the traffic situation in the area," he said in a statement.
The flyover was built to shorten the time of travel from Iloilo International Airport in Cabatuan town to Iloilo City.
It was fully opened on September 5, 2023, but was closed just two weeks later due to confirmed vertical displacement in the structure.
Since its closure, motorists traversing the area have suffered the daily burden of heavy traffic, especially during rush hours.