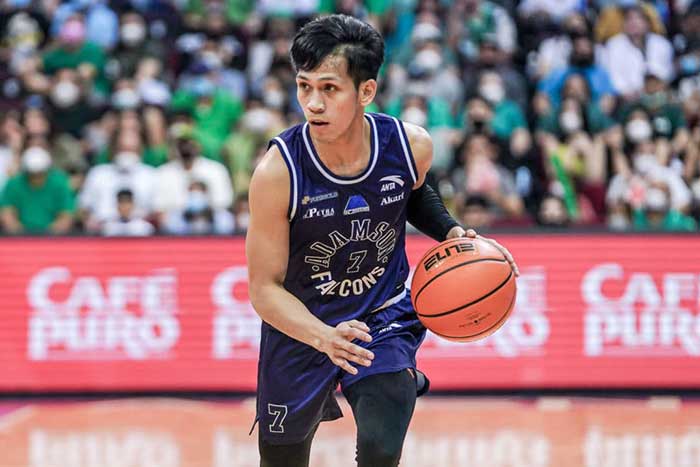 By Leobert Julian A. de la Peña
Jerom Lastimosa's worst nightmare just came.
Eager to return to help the Adamson Soaring Falcons punch a ticket to the Final Four of the UAAP Season 86 men's basketball tournament, the savvy point guard's hopes of finishing the competition will no longer materialize after multiple reports confirmed that he suffered a full torn Anterior Cruciate Ligament (ACL) on his left knee last October 29, 2023.
Lastimosa absorbed the season-ending injury during his UAAP second-round comeback against the University of the Philippines (UP) Fighting Maroons.
With 5:23 remaining in the third quarter of the Adamson-UP clash, Lastimosa caught the ball from the right elbow and decided to take Gerry Abadiano in an isolation situation.
However, after Lastimosa drove down to the baseline, the veteran floor general suddenly stopped and grabbed his left knee.
Seconds after the sequence, Lastimosa was subbed out of the game, limped out of the playing court, and covered his face with his jersey in disappointment.
Lastimosa logged in a total of eight minutes against the Fighting Maroons and recorded three points and a block.
Before the incident, Lastimosa already injured his knee in practice, the sole reason why he missed the whole first round of the UAAP Season 86.
Last week, Adamson head coach Nash Racela shared that Lastimosa might be back practicing with the team and may rejoin the Soaring Falcons once the second round kicks off.
"Every day he does therapy like five times a week. I think by next week he'll probably join us in practice with a calendar that he has, we'll see," said Racela.
Lastimosa was vital to Adamson's campaign last season, averaging 15 points, 4.1 rebounds, 3.6 assists, and 1 steal per game.