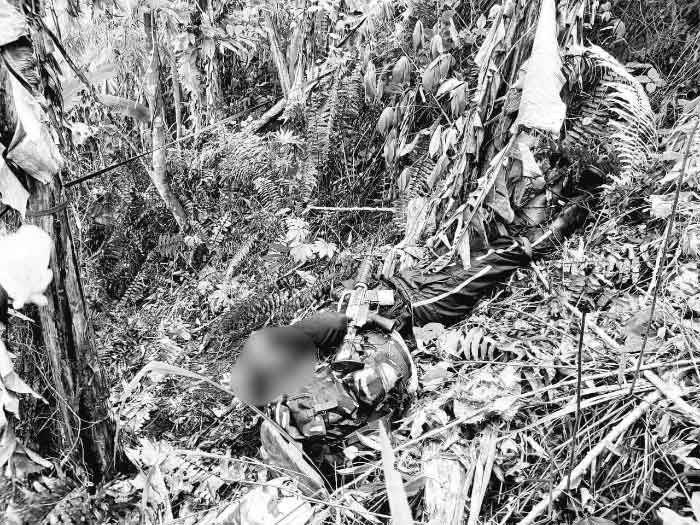 By Glazyl Y. Masculino
BACOLOD City – Military troopers found the body of an alleged high-ranking officer of the New People's Army (NPA) last Saturday, two days following a clash with the Army's 11th Infantry Battalion (IB) at Sitio Taleo, Barangay Milagrosa, Sta. Catalina, Negros Oriental on August 24.
According to the 11th IB, a K9 dog discovered the body of Ruby Almines, alias "Kende," an alleged medic squad 1 of SouthEast Front (SEF) of Komiteng Rehiyon Negros, Cebu, Bohol, Siquijor (KR-NCBS).
Almines was found at the said encounter site where Corporal Richard Rafols, a personnel of the 11th IB, was also killed in the encounter.
Military troopers recovered an M653 rifle, an anti-personnel mine (APM), four magazines for M653, three magazines for M653, 40 rounds of 5.56mm ball, batteries, an electrical tester, backpacks with personal belongings, tarpaulin, and foodstuff.
At least 10 NPA rebels who were believed remnants of the dismantled SEF-KR-NCBS were encountered by the soldiers when they acted on reports from local residents on the alleged presence of unidentified armed men in the area.
Major General Marion Sison, commander of the 3rd Infantry Division (ID), warned the NPA that the Army will not rest until none of them remained to continue their "futile and senseless" armed struggle.
"We will make sure that this ultimate sacrifice paid by our soldier-hero will not be in vain," Sison said in a statement.
Sison said that the 11th IB will intensify its effort to protect the people of Negros Oriental.