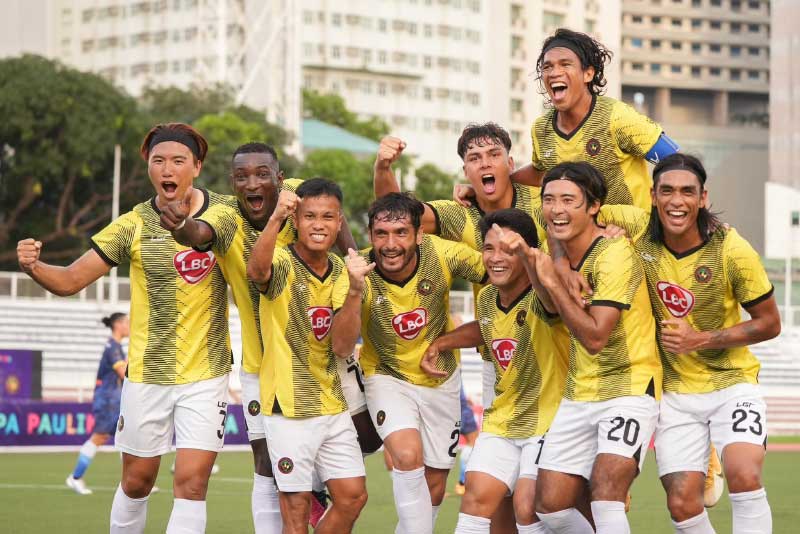 By Leobert Julian A. de la Peña
The Kaya FC-Iloilo dropped the hammer on the Don Bosco Garelli United after obliterating them in their Copa Paulino Alcantara Cup duel, 11-0, last August 19, 2023, held at the Rizal Memorial Stadium.
With the win, the Iloilo-based football club just set the biggest win in the ongoing Philippines Football League (PFL) season with an 11-0 disparity in the final score.
Kaya FC only needed nine minutes to crack the Don Bosco backline after Ricki Sendra drew first blood off a sweet assist from Daizo Horikoshi.
A minute after Sendra's first goal, Arnel Amita doubled Kaya FC's lead after cleaning up the off-the-post header miss of Abou Sy inside the penalty area.
The Kaya FC onslaught didn't end as Ilonggo Jhan Melliza entered the scoring column after cashing in a spectacular goal coming from a cross pass from Marwin Angeles.
Sendra then racked up his brace after helping Kaya FC end the first half on a high note, securing a 4-0 lead before heading into the second half.
It was all Kaya FC in the next 45 minutes of the match as the lloilo booters turned it up and stepped on the gas pedal to add seven more goals.
Angeles kicked off the second half scoring party, replicating Amita's clean up job when Horikoshi missed his attempt near the penalty area.
Despite Don Bosco's tighter coverages in the left flank, Kaya FC was still able to disrupt their defensive rhythm after a high-octane offense in the remaining 35 minutes of action.
The other six goals for Kaya FC were delivered by Sy, Horikoshi, Angeles, and Mar Diano to help Iloilo begin their Copa Paulino campaign with a perfect 2-0 start.
Kaya FC will be looking to nab their third-straight victory and protect its winning streak against the Philippine Air Force on August 26, 2023.