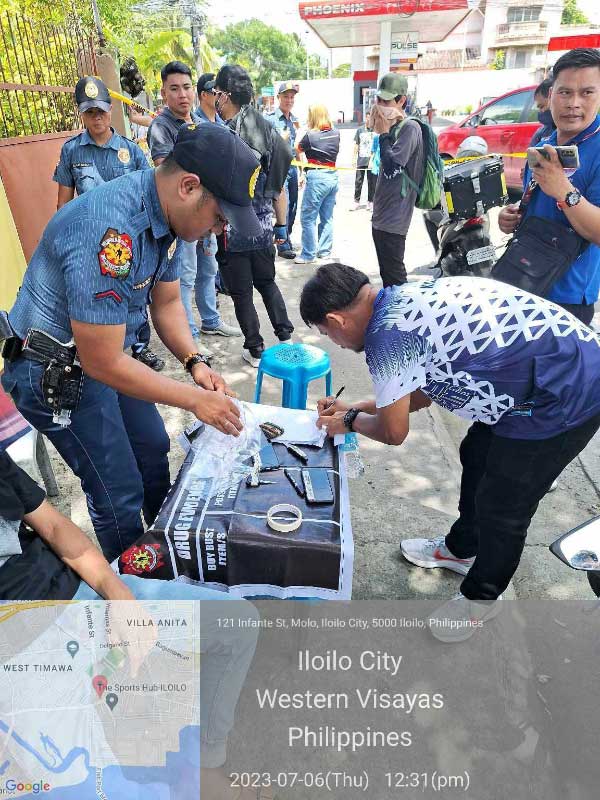 By Jennifer P. Rendon
A motorcycle driver and his back rider were arrested at a checkpoint in Molo, Iloilo City afternoon of July 6, 2023.
Al Joseph Carton, 28, of Barangay Nonoy, City Proper, Iloilo City, and Lester Peñafiel, 24, a call center agent from Barangay Sooc, Arevalo, Iloilo City are in jail for trying to evade a checkpoint.
Carton was driving the Yamaha Mil scooter with Pañafiel as his backrider when they were flagged down at a police checkpoint on Infante Avenue, Lopez Jaena Street in Barangay Infante, Molo.
Captain Benjie Dicen, Iloilo City Police Station 4 chief, said the duo acted strange even before cops could investigate them.
"One of our personnel saw Peñafiel putting something in his mouth," Dicen said.
When the policeman asked Peñafiel what he tried to swallow, a sachet of suspected shabu fell from his mouth.
Carton also failed to present his driver's license. He then cranked the throttle of his motorcycle and attempted to flee but policemen were quicker to hold him off.
A 6-inch knife was also taken from Carton after he was frisked.
Peñafiel would be charged for violation of Section 11, Article II of Republic Act 9165 (Comprehensive Dangerous Drugs Act of 2002) while Carton would be charged for Disobedience and Resistance to Lawful Order and violation of City Ordinance No. 138.