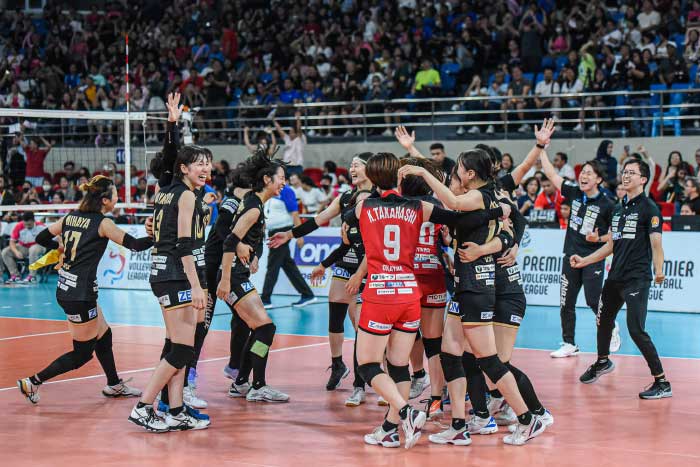 By Leobert Julian A. de la Peña
All the hard work and sacrifices paid off for the Japanese volleyball squad Kurashiki after ousting the Creamline Cool Smashers in five grueling sets, 19-25, 25-23, 25-19, 20-25, 15-13, to take home the Premier Volleyball League (PVL) Invitational Conference championship title last July 30, 2023, held at the Philsports Arena in Pasig.
The foreign guest team showed a mix of heart, resiliency, and consistency after needing all its tools in the box to take down the mighty Cool Smashers.
It was Creamline who struck first as the duo of Tots Carlos and Ced Domingo came out waxing hot to give the Cool Smashers the early advantage.
With Carlos leading the way in Creamline's attack, Domingo was all over the place, blocking every Kurashiki spiker to tally two early rejections.
The momentum then swung Creamline's way after they took a 1-0 lead but the Japanese club adjusted quickly and countered with their organized set plays.
What was once a messy execution scoring streak for Kurashiki suddenly went flawless led by the duo of Saki Tanabe and Akane Hiraoka.
Just when Kurashiki thought they could make it three-straight set wins for an easy 3-1 victory, the defending Philippine Cup champions responded well in the fourth set to turn things around.
The nip-and-tuck affair continued in the fifth and deciding set. The Japanese team drew first blood and led, 6-4, but the Cool Smashers answered the call and blitzed their way to a 4-0 run to retake the lead, 6-8.
Creamline was close to reaching the 13th point and building a two-point lead but Kurashiki was able to stay patient with their sets and scored a huge bomb for another deadlock of the title game.
With the game on the line and Kurashiki only needing a point to ice the set, an anticlimactic ending saw Japan's service kiss the line of the Cool Smashers' area for an ace to end the match in style.
Despite the loss, it was still an impressive campaign for the Cool Smashers after clinching its second-straight grand finals appearance in just a year.