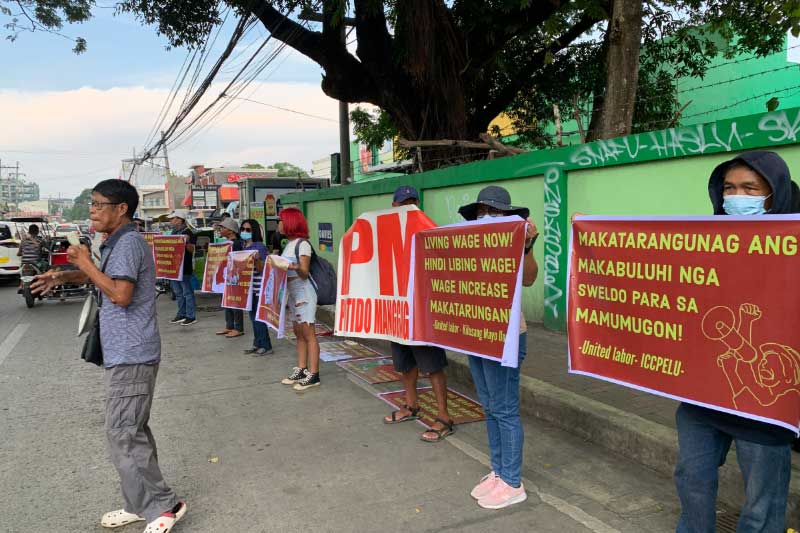 By Rjay Zuriaga Castor and Mariela Angella Oladive
Labor organizations in Iloilo called on the Regional Tripartite Wages and Productivity Board in Region 6 (RTWPB-6) to heed their plea for a P100 "wage recovery" on the daily salary amid the rising prices of basic commodities.
United Labor-Western Visayas, an alliance of labor groups which include Partido ng Manggagawa and Kilusang Mayo Uno (KMU)-Panay, and the Iloilo Pepsi Cola Workers Independent Union staged a protest in front of the RTWPB-6 office on Tuesday.
The groups urged the board to promptly respond to the two separate wage recovery petitions they filed in March 2023.
The group said the P100 they are asking is not necessarily a wage increase but only wage recovery.
Partido ng Manggagawa spokesperson Mario Andon said that considering the very high inflation rate in the region, "a little increase on the minimum wage among the laborers would not suffice to the amount they lost due to the increasing prices of basic goods and primary commodities. "
"Ang panawagan namon sa wage board nga iresolbahon na ang petisyon namon nga gin-file last March pa […] Asta subong wala pa nila na aksyonan," Andon said.
"Wala hearing. Ang natabo lang is consultation. Wala man sang posisyon ukon ano man halin sa RTWPB-6," he added.
Regional Director Sixto Rodriguez Jr. of the Department of Labor and Employment (DOLE) and the concurrent chairperson of the RTWPB-6 said that after the petitions were filed, they have given "due course to the two petitions by calling the parties or the petitioners to appear before us to verify their legal personality."
The RTWPB-6 conducted a consultation for stakeholders in Iloilo and Guimaras on July 5, while for those in Negros Occidental and Bacolod City, on the second week of July.
KMU-Panay chairperson Elmer Forro said the P450 minimum daily wage in the region has suffered an erosion of P87 due to a 10.3 percent inflation rate at the beginning of the year, followed by a 10.8 percent inflation rate in February — the highest in more than 14 years.
He explained that though the region's inflation rate eased down for four straight months, the minimum wage set by the government fails to keep up with rising consumer costs and is far below the living wage needed for a family of five.
Forro noted that their petitioners are not seeking a wage increase but rather a recovery to compensate for the declining real value of workers' wages.
"Gusto lang namun i-recover ang ang nadula nga balor sang sweldo sang mamumugon tungod sang madasig nga pagsaka sang presyo sang balaklunon," he said.
He, however, noted that they support all the daily wage increases pushed by other labor groups, even the legislated minimum wage hike of Php100 of Senate President Juan Miguel Zubiri.
"Ang amon nga handum, tani maging mapantayan ang daily cost of living sa pag-set sang minimum wage. Dapat tani ang sweldo sang mga mamumugon across-the-board nationwide hindi magnubo sa P1,162 a day," he added.
According to the independent economic think tank, IBON Foundation, a family of six in the National Capital Region should have a daily rate of about P1,168, while a family of five would require P973 per day.
Forro lamented the slow progress and the "turning a blind eye and tone-deaf" action of the regional wage board on their petition.
"Tama ka hinay. Daw bao ang pag-usad sang amon wage petition. Ang Manila gani although kagamay ang ginhatag sa ila [nga wage increase], pero at least naaksyunan na. Ngaa kadugay gid diri yah sa Western Visayas?" he added.
The labor leader stressed that if DOLE fails to fulfill its mandate, labor groups will lobby for the abolition of the regional wage boards.
"Kung indi nila mapanindugan ining mandato sa ila. Siguro tama na nga valid nga dulaon na lang sila diri sa Western Visayas," he said.
"Indi matuod, indi sinsiro, kag indi matarong nga representante sang mga mamumugon […] inutil ining RTWPB sa paghatag atensyon sa demanda sang mga mamumugon," Forro added.