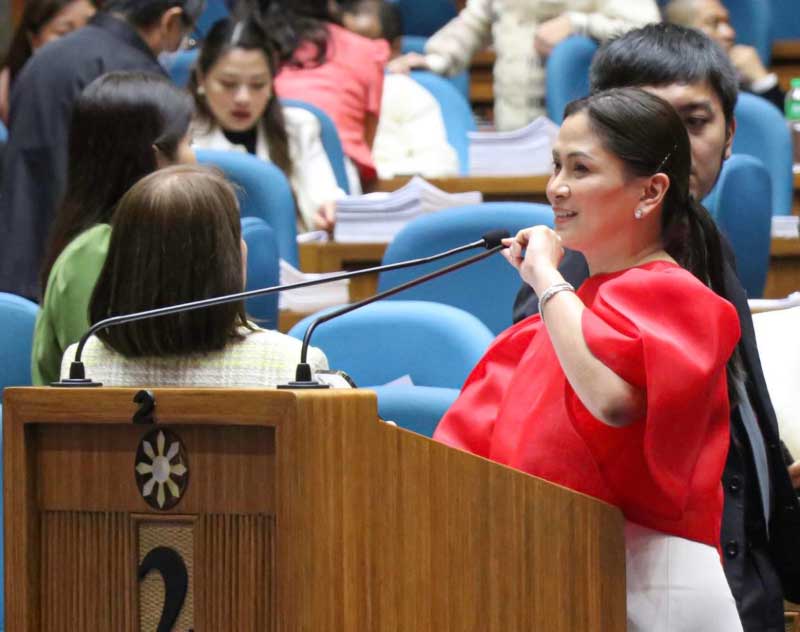 By Joseph Bernard A. Marzan
Iloilo City's lone delegate to the House of Representatives on Friday said that she is pushing for an increase in the salaries of nurses and other healthcare workers, as the city's own hospitals are set to expand its human resources.
The issue of retaining health workers in the country has been tricky with complaints of low pay and benefits, forcing nurses and even doctors to go abroad.
Rep. Julienne Baronda touted the expansion of the Western Visayas Medical Center (WVMC) in Mandurriao district in 2019, and a ₱300 million addition to the Department of Health's budget for further expansion of the hospital.
She said that the expansion of the hospital beds from 425 to 700 would also entail 2,088 open 'plantilla' or regular positions in the WVMC.
Former Budget Secretary Wendel Avisado was able to approve the release of 50 percent of the intended cash allocation for these hirings, according to Baronda.
The focus right now is securing the completion of the cancer center at the West Visayas State University Medical Center in Jaro district, with a ₱100-million funding for a linear machine.
Baronda recognized that while expansions and improvements to hospitals come with a complement of additional human resources, the greater challenge was how to sustain them, particularly with the threat of migration for better labor and employment opportunities.
She said that the House of Representatives has had bills to increase the salaries of nurses and other health care workers to ensure their longer stay in our country's health care facilities.
"We look forward that the national government would have available funding. We have been through a national [health] crisis, the [COVID-19] pandemic, but we look forward that once we've [fiscally] recovered, that would be prioritized and focused on," Baronda said.
Daily Guardian checked the status of bills pertaining to salaries of health care workers pending in both houses of Congress (House of Representatives and Senate) and found that almost all of them remained pending.
Some of these measures are:
–          House Bill (HB) No. 3037 authored by Rep. Edward Maceda (Manila-4th), pending with the Committee on Appropriations since August 8, 2022;
–          HB No. 4599 authored by Reps. France Castro (ACT Teachers PL), Arlene Brosas (Gabriela PL), and Raoul Danniel Manuel (Kabataan PL), pending with the Committee on Appropriations since September 13, 2022;
–          HB No. 5806 authored by Rep. Patrick Michael Vargas (Quezon City-5th), pending with the Committee on Appropriations since November 9, 2022;
–          HB No. 6212 authored by Reps. Castro, Brosas, and Manuel, pending with the Committee on Appropriations since November 23, 2022;
–          HB No. 7921 authored by Rep. Rosemarie Panotes (Camarines Norte-2nd), pending with the Committee on Appropriations since May 9, 2023;
–          HB No. 8557 authored by Baronda, filed last June 22 and pending first reading; and
–          Senate Bill (SB) No. 638, filed by Senator Juan Edgardo Angara, pending with the committees on Civil Service, Government Reorganization and Professional Regulation Health and Demography, and Finance, since August 17, 2022.
In addition, Reps. Castro, Brosas, and Manuel filed House Resolution No. 476 which directed the Committee on Health to conduct an inquiry into increasing nurses' salaries to Salary Grade 15. This resolution remained pending with the Committee on Appropriations since November 8, 2022.
National Budget Circular No. 591 of the Department of Budget and Management dated January 10, 2023 indicated Salary Grade 15 as between ₱36,619 (Step 1) to ₱39,367 (Step 8).
Commission on Higher Education (CHED) chairperson Prospero De Vera III said on Tuesday said that they have submitted its action plan on the shortage of nurses to President Ferdinand Marcos Jr., including lifting the moratorium on new nursing programs in tertiary schools across the country.
De Vera said that there have been 54 universities applying for nursing programs, which, if approved soon by Marcos Jr., could produce more than 2,000 nursing students by 2028.
Other parts of the commission's plans include eyeing grants for review classes for non-board examination passers and the creation of healthcare assistant careers to address nursing shortages.
The president ordered the CHED last March to address the nursing shortage in the country due to migration, after vowing in September last year to improve the working conditions of Filipino nurses.