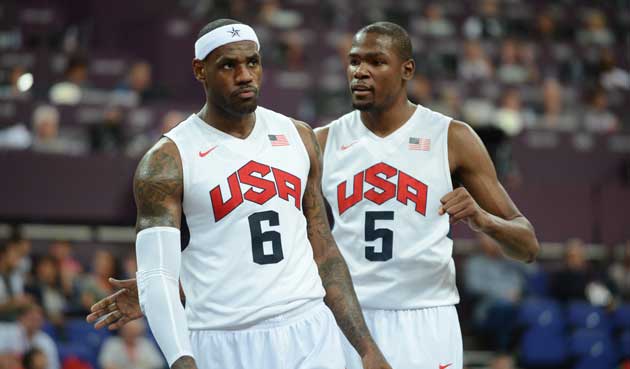 By Leobert Julian A. de la Peña
Will we see LeBron James' last dance on the international basketball scene?
After a disappointing result in the FIBA World Cup, USA Basketball will have to overhaul things following another failed campaign for a medal when they lost to a talented Canadian squad during the battle for third place last September 10, 2023, held at the Mall of Asia Arena.
Days after the final game day of the FIBA World Cup, The Athletic's Shams Charania surprised the whole social media platforms when he reported that James wanted to play in the upcoming 2024 Paris Olympics.
The NBA's All-Time scoring leader then reportedly reached out to some of the biggest names in the league, namely: Stephen Curry, Draymond Green, Anthony Davis, Jayson Tatum, and Kevin Durant, to join him in his quest for redemption.
Charania added that James, Curry, and Durant are already in talks of joining hands to represent USA in Paris to extend their undefeated streak that started last 2008 in Beijing China, featuring the Redeem Team.
Joining the national team for the Olympics is a thing that Curry hasn't done despite winning multiple NBA championship titles. He represented USA on the FIBA global stage when he was still a rising star in the league and delivered two titles last 2010 and 2014.
Meanwhile, James and Durant already became vital pieces to USA Basketball's campaign in the previous years, with the Los Angeles Lakers superstar winning it from 2008-2012 while the Phoenix scorer bagged the Olympic gold from 2012-2020.
Aside from them, Devin Booker, Damian Lillard, Kyrie Irving, and De'Aaron Fox also showed interest in joining the stacked Olympic team.
If this superstar-filled roster will be finalized next summer, expect an old-fashioned USA brand of basketball to dominate Paris and the other competing nations.
However, the task will not be easy as the other countries are also catching up with the NBA, proof is Germany's first-ever FIBA World Cup title when they took down the talented Serbian squad during the grand finals.
France became USA's main rival during the last Olympics, suffering their only defeat against them before completing their revenge in the gold medal match.