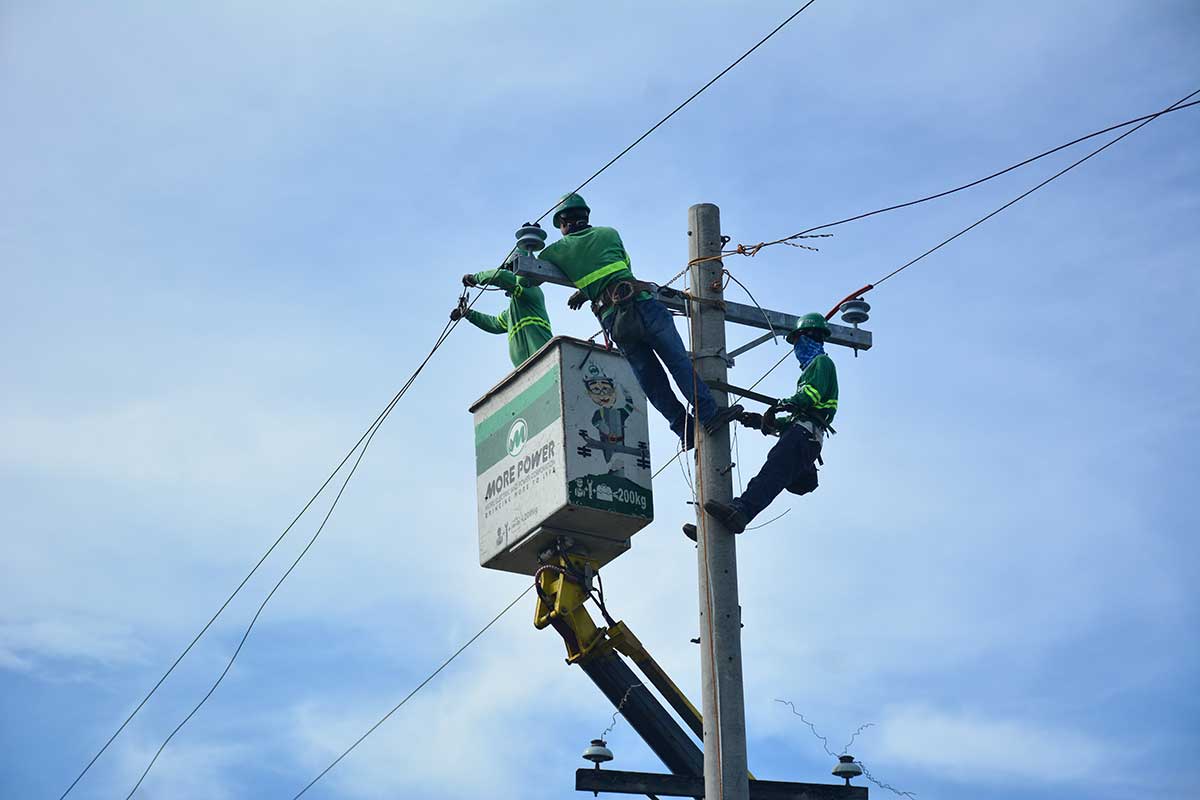 By Francis Allan L. Angelo
The town of Leganes, Iloilo has officially joined calls for MORE Electric and Power Corp. (MEPC), the power distributor in Iloilo City, to expand its services to the municipality.
Sangguniang Bayan Member Samson Jaspe, chairman of the committees on appropriations and investments promotion, sponsored a resolution urging Iloilo 2nd district Rep. Michael Gorriceta to explore the possibility of opening Leganes to another power distribution utility like MORE Power that can offer cheaper electricity rates and better customer service.
The Leganes resolution, which was passed Tuesday, follows on the heels of a resolution passed by the Sangguniang Bayan of Pavia which also made the same call.
Both Leganes and Pavia are in the second district and falls under the service area of Iloilo Electric Cooperative (Ileco) I.
Jaspe said his main motivation for authoring the resolution was to lower power rates which can attract more investors in the town.
A former municipal planning and development officer, the town councilor said expensive power has discouraged investors from locating in Leganes.
"High electricity rates have been a major factor why investors are hesitant to locate here. We have been trying to establish our economic zone here, but power rates are an issue," he told Daily Guardian in a phone interview.
A comparison of the electricity shows that MORE Power charges P6.45 per kilowatt-hour, 41 percent lower compared to P10.90 charged by Ileco I.
Earlier, Leganes Mayor Vicente "Jun-Jun" Jaen II of Leganes said they will welcome any investor who can offer cheaper electricity rates and more efficient services to their area.
"If power cost is affordable, we can use that as a marketing tool to invite businesses to our town. If businesses find our electricity rates more competitive, they will flock here and set up shop. That would mean more jobs, more revenues, and a progressive town," Jaen said.
Jaen said electricity rates are major issues in attracting investors to Leganes which has become an alternative investment area outside Iloilo City. Affordable power also benefits all their constituents by way of savings.
"If you construct roads, only travelers can use them. If you put up a gym, only a handful can use them. But cheaper electricity benefits everyone. Affordable power is a game changer," he added.
Jaen said the move could also prompt Ileco I to try to lower its rates and improve its services.
"Who knows, this might also prod Ileco I to do better."
Jaspe said they also want better service like troubleshooting as Ileco I only assigned one troubleshooting team in the town.
"Sometimes the team is deployed to other towns and we have to wait for them to be available if there are troubles in our power lines," he added.
The town councilor said it is now up to Congress to decide on their call since it approves the franchises of distribution utilities.
"What we want is to lower power rates and even better services for the town."
Rep. Gorriceta also told Daily Guardian earlier that it would be better if other towns can also pass a similar resolution which he can present to the House of Representatives, particularly the Committee on Congressional Franchises.
"I would advise that other towns, especially in the second district, should also raise their sentiments which I can collate and bring to Congress at one instance," Rep. Gorriceta said.
Gorriceta said the request will undergo deliberation by the Committee on Congressional Franchises which handles franchises of power distributors like MORE Power.
"If the committee finds merit, it can summon the concerned parties conduct hearing to hear and consider their sentiments and the advantages or otherwise. We also need a senate version of the proposal," he added.
Roel Z. Castro, President and COO of MORE Power, had said that they are elated by the interest of other towns to avail of their services which they will carefully study.
Castro said their sincerity and transparency in serving Iloilo City may have triggered other towns to initiate calls to extend MORE Power's franchise to their town.
"We do not want to brag but what we have achieved since we took over a year ago somehow speaks of our sincerity to bring better services and lower the price electricity," he added.
He cited the quick response of their teams to troubles and their costumer care services as examples. Things became rosier when MORE Power was able to lower electricity rates by 36 percent from P10.0149 per kilowatt-hour (kWh) to Php6.4562/kWh.
While they are happy with the clamor, Castro said there is no room for emotional decisions or sudden moves on the matter.
"We need to study that. We need to look at the impact on rates and the people. If can lower rates in city, we might be able to do so in other areas after due economic studies. We are studying if possible legally and economically," he said.