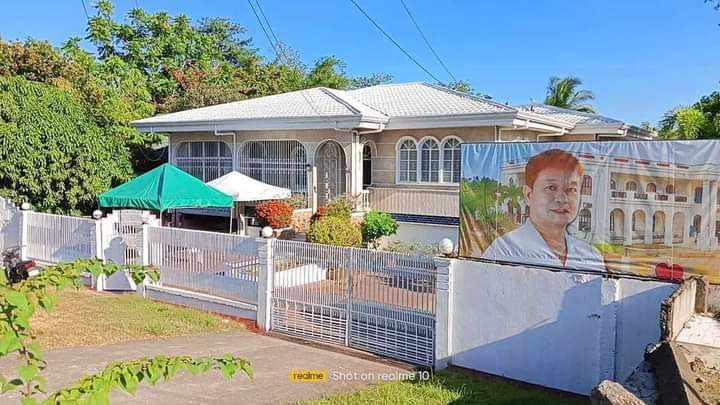 By Felipe V. Celino
ROXAS CITY,  Capiz – Mayor Mateo Hachuela of Dumarao, Capiz offered a P100,000 cash reward for information that could lead to the persons who lobbed a hand grenade outside his house Saturday evening in Poblacion Ilaya, Dumarao.
Hachuela believed that the motive for lobbing a hand grenade in his house might be political jealousy because of his accomplishments in the town.
He also believed that the persons behind the incident were residents of Dumarao, based on the footage from the CCTV camera.
The mayor said the two suspects were neophytes as they did not directly throw the grenade inside their house.
Since he sat as mayor of the town one year ago,  Hachuela said he has made several accomplishments such as the rehabilitation of farm-to-market roads and public market, and strict implementation of wearing of helmets for motorcycle drivers and riders, among others.
Hachuela said he did not receive death threats before the incident.
Police are still investigating the possible motive and suspects in the grenade-throwing incident.
The town was celebrating its annual town fiesta while Hachuela was inside their house during the incident.
According to Nilo Cadelario Huta, one of Hachuela's employees, he was sitting on a bamboo bench inside the property when he heard the explosion.
He claimed to have seen flames spark at the blast site.
Huta said he immediately told Atty. Grace Hachuela, the mayor's wife, about what happened. She was the one who informed the police about the incident.
Captain Achilles Franco, Jr., Dumarao police chief, said members of the PNP Explosives and Ordnance Division (EOD)-Capiz conducted a post-blast examination in the area.
Members of the scene of the crime operations (SOCO) team also probed the area.
Investigators recovered the body of a hand grenade fragmentation high explosives or M26 and its safety lever.
Other than the galvanized fence, no other things were damaged by the blast.
Franco said there is a CCTV camera in the area.
"But we have still to enhance the footage because the area where it happened was dimly-lit," he said.
The footage showed two motorcycle-riding men passing by the place before the explosion.
Franco said they're not discounting the possibility that the incident was just meant to threaten the mayor since the grenade was not lobbed directly at the house.
Mayor Hachuela is also a lawyer by profession.