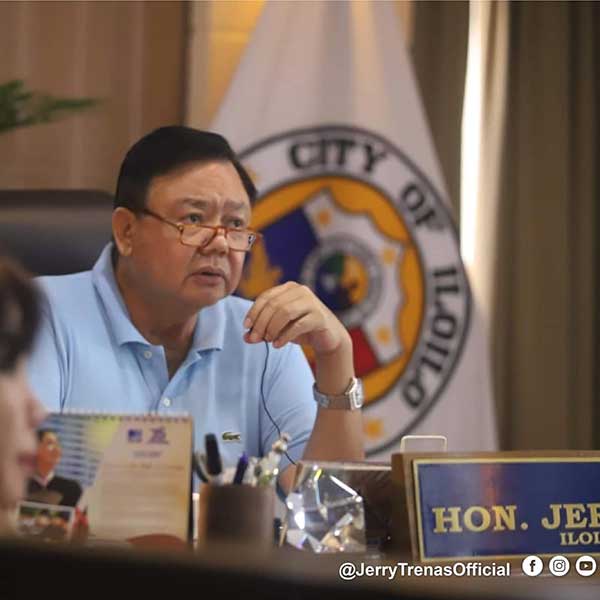 While he expressed support for the incoming administration of presumptive President Ferdinand "Bongbong" Marcos and presumptive vice-president Sara Duterte-Carpio, Iloilo City Mayor Jerry Treñas said he does not favor the imposition of mandatory Reserve Officers' Training Corps (ROTC) on the youth.
According to Treñas, there are other ways to instill love for the country other than the mandatory military service training,
The mayor shared he was once a reserve officer and underwent military service training.
"Unfortunately, we do not agree in that area, para sa akon there are other ways to improve the love of country, and the preparation for civic matters. Ako reserve officer ako. Naka-ROTC man ako, nagmartsa-martsa man ako, I did not learn anything except marching," he said in a press conference on Monday.
In January 2022, Duterte-Carpio said that she will be pushing for mandatory military service for all Filipinos 18 years old and above once elected vice-president.
Presumptive President Marcos has appointed Duterte-Carpio as the next secretary of the Department of Education (DepEd).
In an interview with Davao City Disaster Radio, Duterte-Carpio clarified that her campaign promise of pushing for mandatory military service has nothing to do with her appointment as the next DepEd secretary.
"Remind ko lang sa lahat ng matalino that the Department of Education is all about basic education, plus Alternative Learning System (ALS). It has nothing to do with ROTC. Walang connection," she said in a report published by ABS-CBN.
Despite their conflicting stance on the mandatory military service, Treñas, still expressed his support for the presumptive vice president. The mayor recalled that in 2018, Duterte-Carpio endorsed his mayoralty bid in Iloilo City in the 2019 elections.
"In so far as Mayor Sara is concerned, we have been together in the League of Cities of the Philippines (LCP), I believe Mayor Sara will also understand, while we parted ways this election, I cannot forget that in 2019 she endorsed me," she added.
As to the next Speaker of the House of Representatives, the mayor said Majority Leader Martin Romualdez, the first cousin of Marcos Jr., is a good friend of Iloilo City.
Meanwhile, former Metropolitan Manila Development Authority (MMDA) chairman Benhur Abalos, who was named by Marcos Jr. as the next secretary of the Department of Interior and Local Government (DILG), is also his friend and a former colleague at the LCP.
"The incoming speaker is a good friend of Iloilo City, in fact I have made my endorsement for his election, I have also endorsed the incoming DILG secretary, he is a friend, a fraternity brother and we were colleagues in the LCP," he added.
Treñas, who declared his support for the Presidential bid of Vice President Leni Robredo, appealed for unity now that the elections have passed.
"The elections have now passed and while we have supported a different candidate, it is now the time to be united, ang ila campaign slogan was really unity. It is time for us to be united," he noted. (DG)