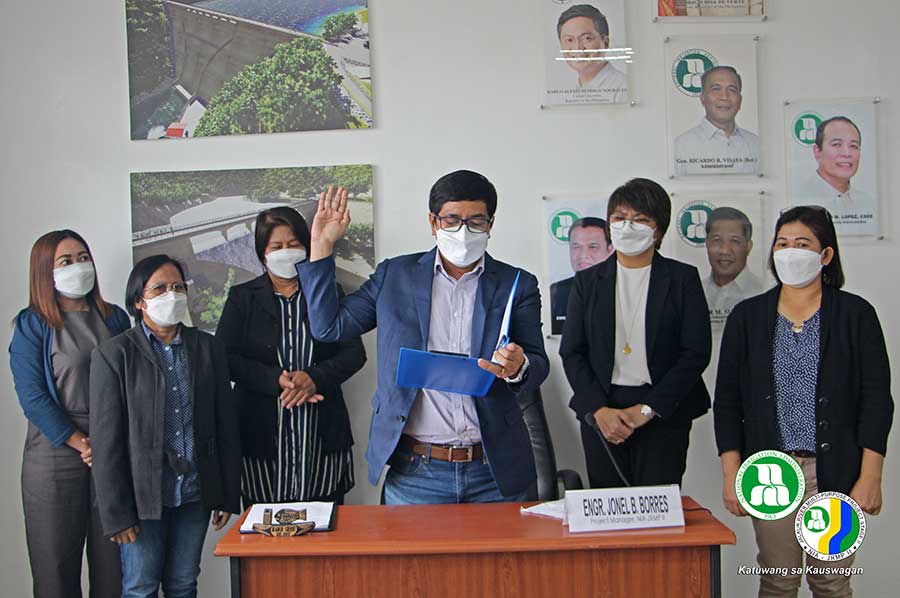 By Flordalie Pagente-Padillo
Engineer Jonel B. Borres is now a full-fledged Project Manager (PM) of Iloilo's biggest irrigation development project.
This as the National Irrigation Administration (NIA) under the leadership of Administrator Ricardo Visaya approved his appointment as PM of Jalaur River Multi-Purpose Project Stage II (JRMP II) on Jan 25, 2022.
Prior to this, Manager Borres served as Acting Project Manager from October 2020, after the untimely demise of Engineer Gerardo P. Corsiga.
He vowed then to continue the legacy of Engineer Corsiga by ensuring success in the implementation of the biggest irrigation project of Iloilo.
"It is both an honor and a challenge I am willingly accepting", he said describing the responsibility given to him more than a year ago.
JRMP II under the leadership of Manager Borres achieved significant accomplishments leading to the completion of the project.
One these is the completion of the additional geotechnical investigation which was essential in the commencement of dam construction.
Moreover, the successful placement of the Roller Compacted Concrete (RCC) in Jalaur High Dam and Jalaur Afterbay Dam happened under his management.
RCC method, known for being economical and effective in construction, is being used for the first time in an irrigation development project in the Philippines under the JRMP II.
The Alibunan River Catch Dam is also nearing completion under his leadership.
This 10-meter run off the river type dam will irrigate the Municipality of Calinog and City of Passi which are all under Zone 1 of the project.
Not to mention that all these accomplishments were realized despite the challenges and threats of the COVID-19 pandemic.
Manager Borres officially assumed his duties as Project Manager and took his Oath of Office on February 2, 2022 through a virtual ceremony officiated by Administrator Visaya, in the presence of NIA top management and JRMP II management and employees.
As full-fledged Project Manager, he committed to successfully complete the project and ensure that JRMP II will live up to its tagline "Katuwang sa Kauswagan" or Partner in Progress.