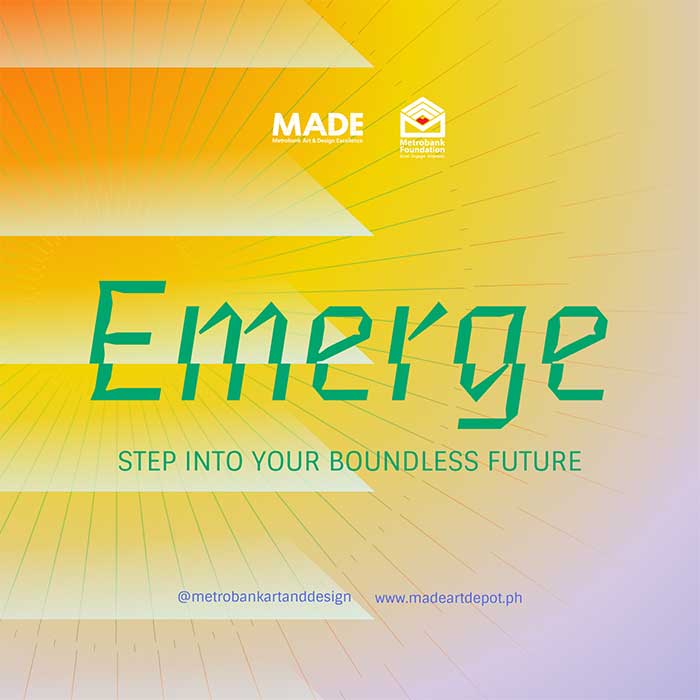 Metrobank Foundation, Inc. (MBFI) launched the 38th edition of its excellence recognition program for the visual arts – the Metrobank Art & Design Excellence or MADE.
Anchored on the theme "Emerge: Step into Your Boundless Future," MADE invites Filipino artists to step out of the shadows, and channel their ingenuity into imagining and exploring infinite possibilities. The annual art tilt beckons local painters and sculptors to create art that mirrors the human experience and showcases unconfined potential.
A Call to Create: Submission of Entries
The 38th year of MADE follows the successful resumption of the Painting and Sculpture Recognition Program after a year of pause prompted by the COVID-19 pandemic. In 2021, the program saw the sustained zeal of artists despite a period of limited mobility and confined environment. MADE received the highest number of entries in the last 10 years with a record-breaking 701 entries. It is a testament that artistic relevance and brilliance cannot be extinguished. This signaled a comeback: that MADE continues to exalt homegrown artistic talents, and cultivate a seedbed for imagination.
The 2022 MADE Painting Recognition Program is open to all Filipino citizens who are 18 to 35 years old (18 years old as of March 31, 2022 and still 35 years old as of September 22, 2022). The entry must be an original artwork, wholly conceptualized and executed by the entrant.
The 2022 MADE Sculpture Recognition Program, on the other hand, is open to all Filipino citizens who are 18 to 50 years old and have not won in past MADE Sculpture Competitions. Artists who have and have not held solo exhibits are both eligible to join the MADE Sculpture Recognition Program.
Deadline of submission of entries is on March 31, 2022. Interested entrants shall accomplish the e-entry form over at www.madeartdepot.ph and submit the requirements to hello@madeartdepot.ph.
For the required artwork and sculpture specifications, detailed submission procedures, dates to remember, and other important information, please view or download the 2022 MADE Painting and Sculpture Competition Guidelines via www.madeartdepot.ph or visit the MADE Facebook page @metrobankartanddesign.
Two (2) grand awardees for the Painting Recognition Program and one (1) grand awardee for the Sculpture Recognition Program will be chosen by a distinguished panel of judges. They will each receive PhP 500,000.00 worth of financial assistance, plus the MADE trophy. The grand awardees will be recognized in an awarding ceremony during the celebration of Metrobank's 60th anniversary celebration in September. The awardees will also become members of the MADE-Network of Winners (MADE-NOW), the alumni organization of past MADE awardees which implements pay-it-forward projects that benefit marginalized sectors.
Renewed Vibrancy, Poised for Ascent
Metrobank Foundation's response to the crisis is strengthening its presence in the digital space to bring art where the people are and keep the creative discourse going. Its social media campaign will provide a platform for online visual arts education and conversations, as well as shine a spotlight on artists and their insights.
The campaign kicked off with the launch of "Thriving in the Midst, Leading the Ascent," a virtual art exhibit that will run until December 22, 2022. It features 99 works from the MADE collection that showcase resilience, growth, and innovation. Head over to www.madeartdepot.ph to view the exhibit.
"In Thriving in the midst, leading the ascent, works echo effectual and optimistic articulations and assessments, interrelated with various social, cultural, and visceral factors, among many others despite many things. These works are also indicative of the artists' tenacity for growth along with surmounting impediments across their artistic and creative practice and process," said Alain Zedrick Camiling, Curator.
Further, the Art MADE Public series aims to spread awareness and amplify relevant conversations on Philippine art and heritage with a lineup of leading visual artists, creatives and advocates.
Starting the series last January 29 was the discussion themed "Walang Future sa Arts!" which sought to debunk misconceptions and stereotypes about being an artist and pursuing a career in the creative industry. Leading the 1st session were curator and art writer Alain Camiling, visual artist and community organizer Alee Garibay, and cultural and museum worker Rica Estrada.
This was followed by "You Never Forget Your Firsts" on February 26, which served as a platform for trailblazing artists to share stories of the meaningful firsts that have propelled their practice and careers—from discovering their passion to launching their landmark projects. The audience heard from JunkNot Eco Creatives Founder IDr. Wilhelmina Garcia, Kanto.com.ph and Brutalist Pilipinas Founder Mel Patrick Kasingsing, and KANTINA Founder Marika Constantino.
On March 19, MADE will cap off the lecture series with "Anong Ambag Mo?" a discussion on artists as changemakers and creativity as a tool for social progress. Sharing their insights and advice will be Daloy Dance Company Founder Ea Torrado, Got Heart Foundation as well as Katinko CEO Melissa Yeung Yap, and Museo ng Muntinlupa Assistant Curator Precious Iñosa.
Watch these webinars at MADE Facebook page @metrobankartanddesign.