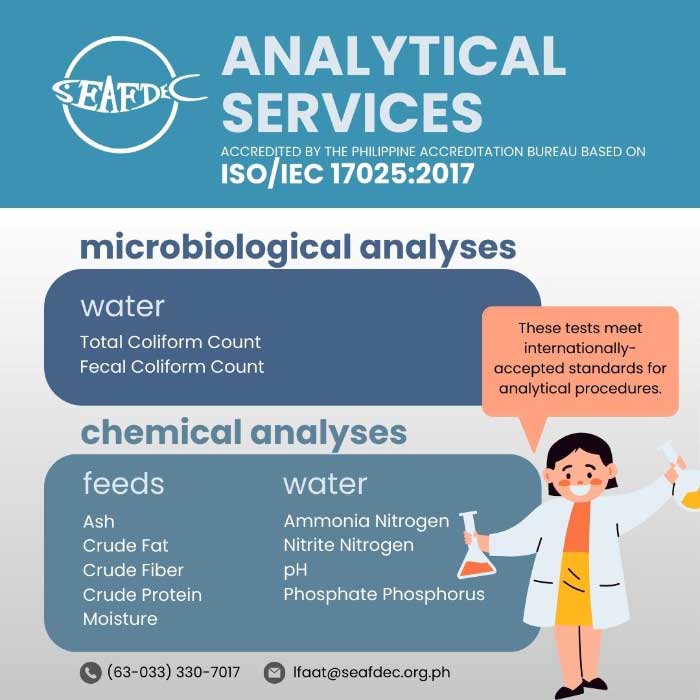 By Rex Delsar Dianala
The Southeast Asian Fisheries Development Center/Aquaculture Department's (SEAFDEC/AQD) service laboratory has earned accreditation for more of its analytical services that have been accredited by the Philippine Accreditation Bureau (PAB) based on PNS ISO/IEC 17025:2017 standards.
In their report released 15 July 2023, PAB expanded their accreditation of SEAFDEC/AQD's analytical services to include chemical analysis of feeds for crude fat and crude fiber.
This was after they conducted a first surveillance visit and special assessment on 20‒22 February 2023 through which they also granted continued accreditation to SEAFDEC/AQD's Centralized Analytical Laboratory (CAL) Laboratory Facilities for Advanced Aquaculture Technologies (LFAAT) until 20 October 2026.
CAL-LFAAT first earned its accreditation back in 2021 wherein other analyses and parameters were also accredited.
For chemical analysis of feeds, the accreditation has also since covered analyses for ash, crude protein, and moisture. For water analysis, determination of ammonia nitrogen, nitrite nitrogen, pH, and phosphate phosphorous continues to be accredited.
For the microbiological analyses, the determination of total coliform count and fecal coliform count also continues to be accredited.
The accreditation means that the laboratory meets internationally accepted standards in its analytical procedures and has an effective quality management system.
CAL-LFAAT mainly serves the internal research projects of SEAFDEC/AQD but also accommodates requests from the public.
For inquiries, the LFAAT may be reached through telephone number (63-33)330-7012 or email address lfaat@seafdec.org.ph.
SEAFDEC/AQD is headquartered in Tigbauan, Iloilo.