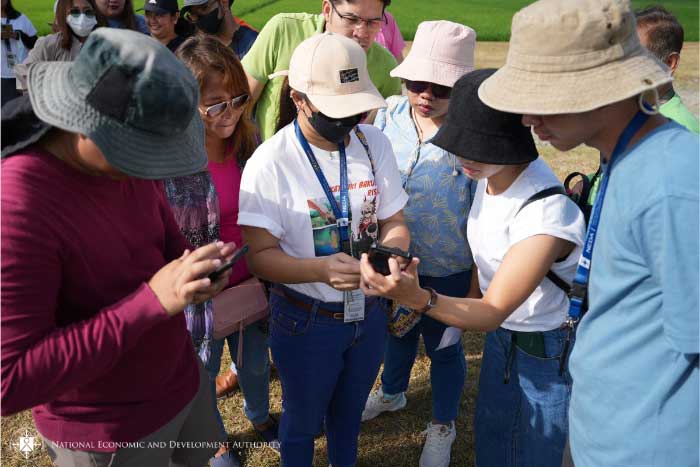 The National Economic and Development Authority (NEDA) sent a research team to the Philippine Rice Research Institute (PhilRice) in the Science City of Muñoz, Nueva Ecija, to evaluate the potential of the Philippine Rice Information System (PRiSM) in providing valuable insights for the government's proactive measures to manage inflation.
"Currently, we utilize PSA (Philippine Statistics Authority) data to inform our inflation policy, but in order to enhance our inflation analysis, we need to augment our data sources. This is particularly important in the case of rice, our staple, and amid volatile weather situations," explained OIC Assistant Director Rory Jay S.C. Dacumos of the NEDA Agriculture, Natural Resources, and Environment Staff.
In the discussions during the study visit, it was pointed out that PRiSM can provide validated rice field data to their registered stakeholders every 7th day of the succeeding month compared to the quarterly PSA data.
"We have also learned during the lectures and the field demonstration that the PRiSM data is reasonably accurate. So, we can see how this could enhance our policy recommendations on inflation," Dacumos said.
PRiSM collects rice field data through satellite Synthetic Aperture Radar (SAR) sensing, which is unaffected by cloud cover. The data collected through the SAR has up to 95 percent overall accuracy, vis-a-vis the ground validated data with the help of PRiSM data collectors in the field across the country using a mobile application to record and upload data more efficiently.
When the SAR images are insufficient, PRiSM can process secondary data, such as data collected using drones.
A satellite, Sentinel-1A, provides the SAR images used by PRiSM. The next satellite, Sentinel-1C, is set to be launched within the year and has the potential to further augment PRiSM's operations.
The compiled data is presented in the form of rice area maps that indicate the locations where rice has been planted, the timing of rice planting, estimated rice yield, areas of rice affected by flooding due to heavy rains and tropical cyclones, and areas where rice cultivation has been impacted by drought.
"PRiSM is currently only applicable to rice, but according to PhilRice, the technology and methodology of PRiSM could also be adapted for monitoring other crops," Dacumos said.
PRiSM began full operation in 2018 under PhilRice to assist the Department of Agriculture in making well-informed decisions for policy formulation and planning. Since then, PhilRice has been continuously improving the methodology and technology of PRiSM.
Meanwhile, NEDA chairs the Inter-Agency Committee on Inflation and Market Outlook. The committee was formed to provide high-level policy advice on how to address the recent high inflation. Fulfilling this mandate involves providing anticipatory policy advice, which requires the analysis of timely data.