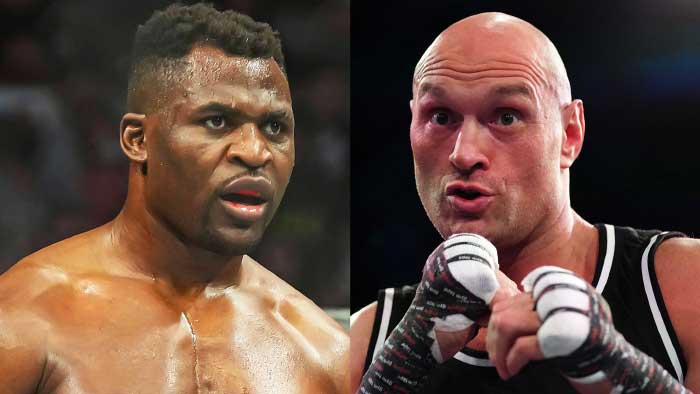 By Leobert Julian A. de la Peña
Fight fans, one of the most highly-anticipated heavyweight slugfests finally turned into reality.
It's on. Former Ultimate Fighting Championship (UFC) champion Francis Ngannou versus World Boxing Council (WBC) king Tyson Fury will be duking it out inside the boxing ring scheduled to take place this coming October 28, 2023, in Riyadh, Saudi Arabia.
EPSN's veteran sports insider Mike Coppinger broke the heavyweight update last July 11, 2023, and also confirmed that both camps already agreed on the initial fight setup.
According to the agreement, the fight will be done in a regular boxing system under the standard boxing rules which includes the 10-point scoring format.
Further specific bout details are yet to be announced including the number of rounds and the prohibited strikes to be made inside the ring.
Fury has been calling out Ngannou for the past months after the hard-hitting Cameroonian parted ways with the UFC due to contract disputes with the league's president, Dana White.
Ngannou said that on top of the monetary agreements, both camps discuss to get everything done, he decided to raise several concerns that White and the UFC camp failed to take into consideration.
Apart from the earnings that he was supposed to receive in fighting Jon Jones, Ngannou revealed that he asked White for a right of sponsorship, health insurance, and a fighter advocate that can stand up for all the fighters during board meetings.
Ngannou said that all of his requests were turned down by White, one of the main reasons why he didn't bother to push through with the Jones fight.
The former UFC heavyweight champion hasn't fought since January 2022 but made it clear that he has been preparing to test Fury's boxing power when the bout was starting to take shape several months ago.
Ngannou has always announced that he preferred to box and even said that he can go toe-to-toe with any professional boxer if given the chance.
Despite fighting in the MMA octagon, Ngannou's first-ever fighting style was always his stand-up game and was even tagged as the most powerful striker the UFC has ever seen.
On the other hand, Fury is confident that he can break Ngannou and expose his weaknesses, proof is his undefeated record in 34 professional fights including 24 knockouts.
Fury is currently on a four-fight knockout streak and is looking to add the inexperienced Ngannou to his list of victims on October 28.
Fight fans, are you ready?