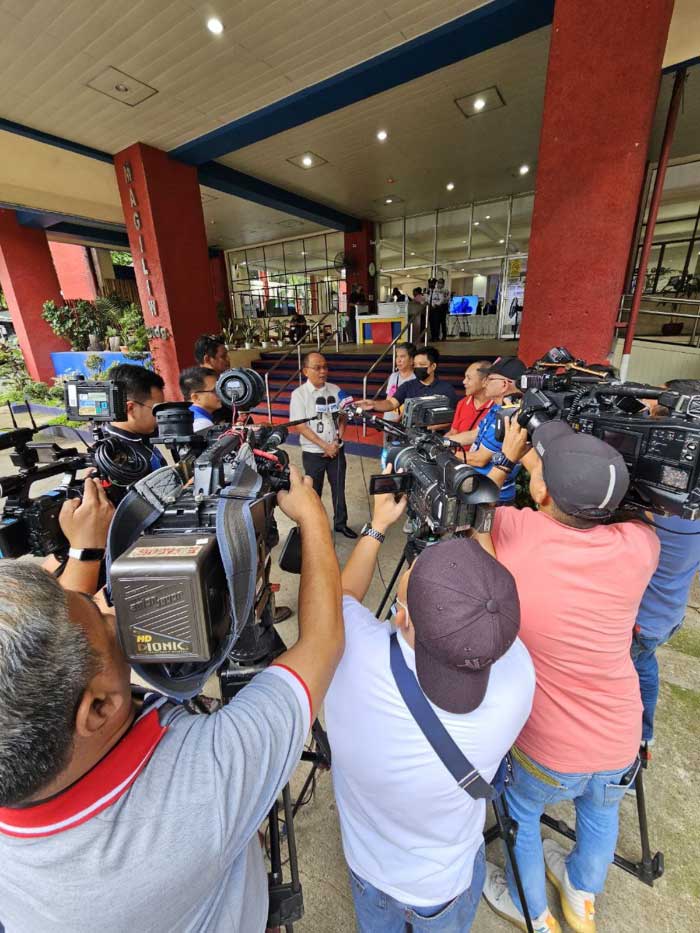 By Francis Allan Angelo
THE Presidential Task Force on Media Security (PTFoMS) called on all media organizations in the country to support moves to remove members of the press from anti-drug operations and inventory of seized evidence.
But a journalist and lawyer said media witnesses in anti-drug busts are not anymore mandatory under the law, and news organizations can actually bar journalists from acting as witnesses in inventories.
PTFoMS Executive Director Paul M. Gutierrez said in a statement that his office is pushing for Congress to amend specific provisions of Republic Act No. 9165 (Comprehensive Dangerous Drugs Act of 2002).
Gutierrez said the move is anchored on modern technology, specifically the use of cameras during police operations.
"Given the advances in technology and with the Supreme Court already mandating the Philippine National Police (PNP) and other law enforcement agencies to use body cameras in some of their operations, the need for the presence of members of the press during anti-drug operations and inventory of seized evidence has become unnecessary," Gutierrez said.
"On this, I call on all media colleagues and their organizations to support the PTFoMS in asking Congress to amend RA 9165 accordingly. This is also for the good of all members of the press," he added.
Gutierrez noted that RA 9165 was passed in 2002 "and since then, we have seen the dizzying pace in the advancement of technology that can monitor all law enforcement activities, and any activity for that matter, 24/7."
Specifically, the PTFoMS wants Congress to amend Paragraph 1 of Section 21 of RA 9165 that presently reads:
"The apprehending team having initial custody and control of the drugs shall, immediately after seizure and confiscation, physically inventory and photograph the same in the presence of the accused or the person/s from whom such items were confiscated and/or seized, or his/her representative or counsel, a representative from the media and the Department of Justice (DOJ), and any elected public official who shall be required to sign the copies of the inventory and be given a copy thereof…"
Gutierrez said the provision was included in the law after "Congress recognized the public's apprehension as regards the activities of some anti-drug operatives engaging in corrupt activities and the tampering of evidence in favor of drug suspects thus the need for neutral observers like members of the press."
"But with the advances in technology and with appropriate safeguards to be placed by Congress and the judiciary, anti-drug operations can now be conducted with greater transparency and on real-time without the need of a journalist being present," he added.
Gutierrez further noted that as far back as November 23, 2018, the National Press Club (NPC), under the term of President Rolando 'Rolly' Gonzalo, had already petitioned Congress to amend Paragraph 1, Section 21 of RA 9165.
Gutierrez said the issue of amending RA 9165 has become urgent with the shooting of Remate Online photographer Joshua Abiad last June 29, 2023 in Quezon City where his being a witness to some anti-drug operations by the police is among the motives being looked into by investigators.
Another Remate reporter and NPC member, Tiburcio 'Jojo' Trajano, was killed during a firefight between the police and drug suspects after joining a police anti-drug operation in Rizal province, Gutierrez noted further.
He added removing members of the press as being witnesses to anti-drug operations and inventory of evidence would also remove from them the burden of attending court hearings and the risk of being targeted by drug suspects.
"Also, it would remove petty corruption whereby members of the press are paid by anti-drug operatives in exchange for affixing their signatures to the inventory sheet and testifying in court."
'MONEY FOR SIGNATURE'
While Section 21 of RA 9165 aimed to curb corruption among police officers in their operations, it had the opposite effect among press workers.
In his November 16, 2018 column in SunStar-Cebu, lawyer and veteran journalist Pachico Seares recounted the claims of former PNP chief Debold Sinas when he was still police regional director in Central Visayas.
"When Gen. Debold Sinas, regional police chief, talked last Sept. 20 at a Cebu Press Freedom Week 2018 forum in Cebu City about media persons acting as witnesses to seizure of illegal drugs, he exposed the practice of the police in paying them for the service," Seares wrote.
Seares added that Sinas' revelation was a surprise to them as many did not know that witnesses were paid for signing the inventory of the alleged contraband.
"Sinas said the amount paid to journalists ranged from P1,000 to P1,500. Whatever it is called – stipend, incentive or allowance – that was not known to the public and, among media, apparently only those who cover the police and military beat knew about it. But it is what it looks like: money is paid for the signature," he added.
Seares, who is also the executive director of Cebu Citizens-Press Council, said the law no longer requires media witnesses in police operations.
"Here's what the police and media may need to be reminded: The Comprehensive Dangerous Drugs Law of 2002 (Republic Act #9165) no longer requires a media representative as witness to the inventory. The amendment made by R.A. #10640 of 2014 made that optional. So police need not scour for and pay a journalist to serve as witness."
Journalists can also refuse to stand as witnesses as a matter of policy of their news organization.
"The journalist, it may be pointed out, can also refuse. He may cite newsroom policy prohibiting journalists from testifying unless required by court order or subpoena from Congress. And the standard in prudent journalism that the reporter, editor or columnist is not part of the news; he reports or comments on the news and does not take part in it," Seares wrote.
"No need to change the law; organizational norms and self-discipline by the media practitioner will suffice. It's just one temptation among other temptations to which a journalist is exposed."