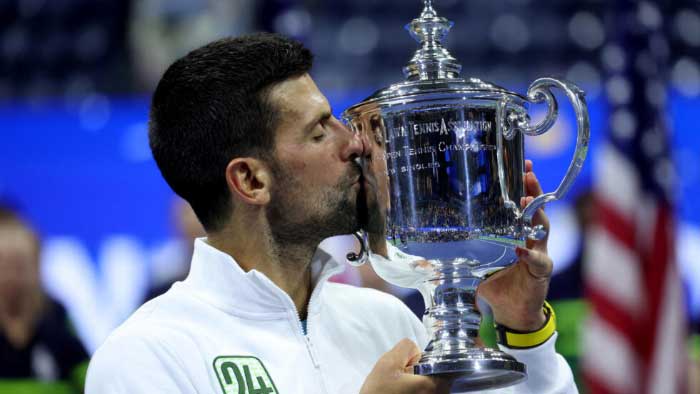 By Leobert Julian A. de la Peña
Domination at its finest.
Novak Djokovic continued to defy the odds and do the unthinkable in his storied professional tennis career after winning the US Open championship trophy to reach the 24th Grand Slam title under his belt.
The Serbian powerhouse imposed his will on Daniil Medvedev in just three straight sets- 6.3, 7.6, 6.3- last September 11, 2023, held at the Arthur Ashe Stadium in New York.
Djokovic really reserved one of his best performances in the bright lights of the US Open after controlling the tempo of the match from start to finish to neutralize any advantage Medvedev had in the game.
Fresh from a stunning upset victory over world no. 1 male tennis player Carlos Alcaraz during the semifinals, Medvedev stood no chance against Djokovic and faced a different animal that dominated the sport for over a decade now.
It was a classic Djokovic-favored match as the quick back-and-forth turned slow midway through the first set after the Serbian took the fight in the top-spin exchange in the baseline.
Known to be a master of court placement, Djokovic made Medvedev work after capturing his rhythm and just cruised through the duel following an early break point in the first set.
Despite Medvedev going extra aggressive with his attacks at the start of the second set, Djokovic countered back with his deep and consistent slice balls that disrupted the Russian's striking rhythm.
It was anybody's game when the match equalized at 6-all in the second frame but Djokovic's cleverness prevailed during the last eight rallies.
As Medvedev targeted his backhand, Djokovic took the risk of going toe-to-toe in the baseline hitting game but added an extra spice when he threw beautifully placed lobs when the Russian pressured him at the net.
It was brilliant. Those lobs that landed perfectly just in the line of Medvedev's forehand area spoiled his counter-attacks and was forced to fire back with a slow looping backhand that always got killed with Djokovic's line-drive smash.
Djokovic showed he still had enough gas left in the tank in the third set and showed hunger for winning when he stepped on the gas pedal.
After back-to-back forehand winners to take a 5-3 lead, Djokovic went for his serve-and-volley that surprised Medvedev in the final game point.
"I don't know where to start. This means the world to me. I have to say this again, I am really living my childhood dream, to compete at the highest level of this sport. I fell in love with tennis. No one played tennis in the family before," said Djokovic during his post-game interview.