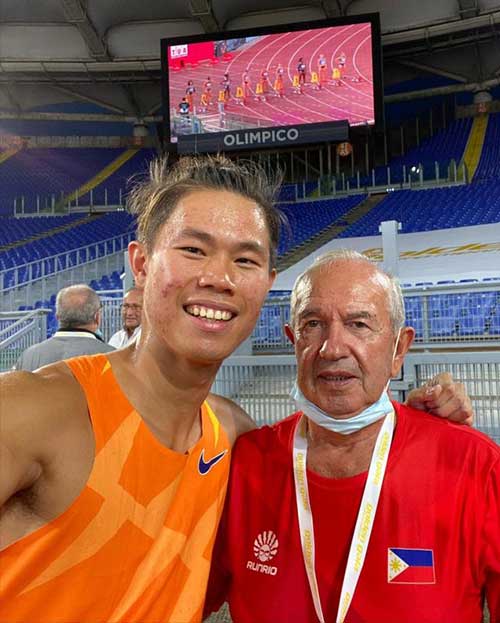 By Leobert Julian A. de la Peña
World-renowned pole-vaulting coach and Ukrainian legend Vitaly Petrov previously said that he will no longer comment regarding the ongoing controversy between Ej Obiena and the Philippine Athletics Track and Field Association (PATAFA).
However, he surprised everyone after posting a lengthy message on his official Facebook account.
Petrov constructed an emotional status in his Facebook account, slamming PATAFA regarding their recent statements that depicted Obiena in a bad light in the world of pole vaulting.
The Ukrainian coach expressed his dismay regarding how PATAFA handled Obiena, eventually dropping him out of the Philippine national team pool.
Several weeks ago, the PATAFA investigative committee recommended Obiena's exclusion from the national team while also slapping Petrov with a complaint about violating the Integrity Code of Conduct.
Aside from Obiena and Petrov, Mr. James Michael Lafferty, a sports patron and one of their main backers, was declared persona non grata by PATAFA.
"I am a coach who have trained and prepared multiple world champions, Olympic champions/record holder and 30 world records under my 57 years of coaching pole vault. Never have I been scorned by any federation of any nation that I have worked with. Now PATAFA and Mr. Philip Juico who has never done anything to help me, drops me as a coach and remove my athlete that has a great future in this sport," posted Petrov in Facebook.
Up to this date, Petrov is still questioning PATAFA regarding their hatred and actions towards him and Obiena and couldn't believe that it reached this level.
Despite the back-and-forth, Petrov and Obiena are still doing whatever it takes to reach the top of the sport and received support from both the Philippine Olympic Committee (POC) and the Philippine Sports Commission (PSC).
Obiena just had his left knee surgery done and is ready to embrace the tough challenges ahead of him in his busy 2022 schedule.
"If this Federation is dropping a world class athlete instead of helping; drops his coach who have trained him to be one of the best pole vaulters; brands a sport patron persona non grata who have done nothing but helped bring this Filipino boy to where he is now, then I ask what is this federation doing?" Petrov closed.