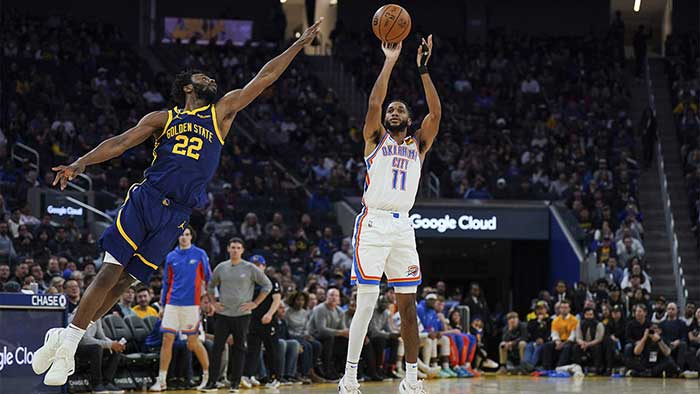 By Leobert Julian A. de la Peña
The Oklahoma City Thunder survived a tough test on the road and handed the Golden State Warriors its fifth consecutive loss of the NBA season, 128-109, last November 17, 2023.
Aiming for its third straight victory in just a week, Oklahoma City banked on its efficient three-point shooting to add to Golden State's woes.
The Thunder shot an impressive 19/32 from the three-point territory led by the sweet-shooting Isaiah Joe who didn't miss a single shot in 25 minutes of playing time.
Joe was on fire from the get-go and finished the game with a perfect 7/7 shooting from downtown to end the victory with 23 points and five rebounds.
Despite Golden State's resiliency when they cut Oklahoma's 19-point lead in the first half to single digits in the second quarter, the young Thunder team just went straight to Joe who was being fed when he drilled every shot he hoisted.
It didn't matter if it was coming from a long pull-up shot, a catch-and-shoot, or an isolation from the top of the key. If you're hot, you're hot.
Oklahoma also got a load of scoring from their superstar Shai Gilgeous-Alexander who dropped 24 points, seven assists, three steals, two rebounds, and a block.
However, the other storyline of their win was their balanced attack as four other players aside from Alexander and Joe reached double figures in scoring.
The Thunder got 19 markers from Josh Giddey, 16 points, five assists, and two steals from Jalen Williams, 13 points from Chet Holmgren, and 10 points from Cason Wallace.
Golden State answered every point Oklahoma scored during the nip-and-tuck third quarter but the Thunder started to pull away in the final frame and outscored them, 34-24.
Jonathan Kuminga was the only player to reach the 20-point mark for the Warriors after chipping in 21 markers and six rebounds.
Meanwhile, Stephen Curry, the team's leading scorer, is still out with a knee injury while Draymond Green was inactive due to a five-game suspension.