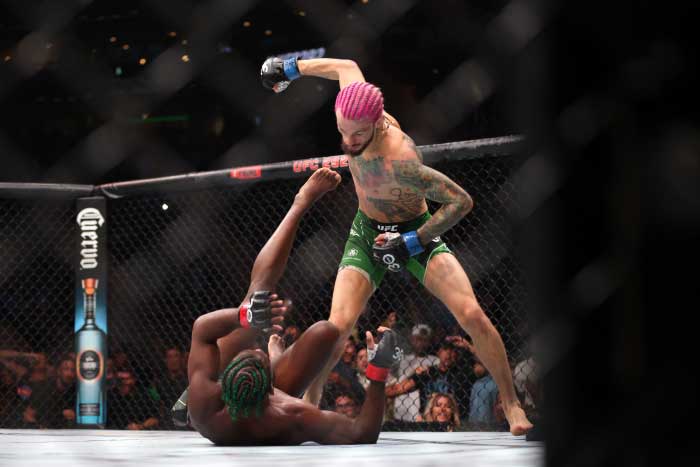 By Leobert Julian A. de la Peña
Sean O'Malley is the real deal, folks.
Facing a more experienced Aljamain Sterling with the ultimate goal of dethroning him from his seat, the hard-hitting O'Malley shocked the whole TD Garden after pulling off a second-round technical knockout victory last August 20, 2023, and became the new bantamweight king of the Ultimate Fighting Championship (UFC).
O'Malley had a hard time breaking down Sterling's takedown attack in the opening round and was willing to give up the first five minutes to study the champion's movement inside the octagon.
It didn't take long for O'Malley to figure out Sterling after quickly solving the puzzle early in the second round.
As Sterling went in using a left-leaning straight punch, O'Malley was quick to anticipate the sequence and perfectly unleashed a right hook counter that floored the champion to the canvass.
Sterling was still conscious and protected himself from the first ground-and-pound strikes but after O'Malley hit him with a powerful right overhand swing that caused him to roll over and cover his face, the match referee then decided to stop the fight and reward the win to the challenger.
The champion initially complained and thought that he can still take more damage and defend himself but the match referee talked to him and said he seen enough beating.
With the huge victory, O'Malley improved his professional MMA record to 17 wins with only a loss while Sterling dropped to 23 wins and four losses.
After the fight, O'Malley admitted that he was hesitant to throw the huge punches because of the respect he had for Sterling's grappling game.
O'Malley also revealed that he was nervous once the official match bell rang but soon as he already went into his rhythm, there was just nothing that could stop his right hand.
"Honestly this was the most nervous I've ever been in a fight but I never lost the confidence because I know what I possess with this f***ing right-hand baby!" O'Malley said during the post-fight interview.