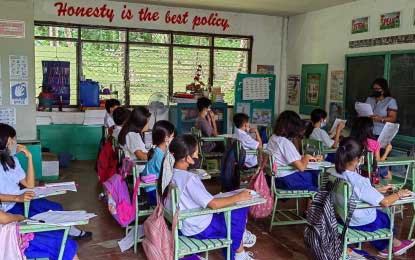 BACK TO SCHOOL. Capiz National High School in Roxas City welcomes its learners on the first day of the school year 2023-2024 on Tuesday (Aug. 29, 2023). Amid the inclement weather, 116 local government units in Western Visayas suspended classes in 3,848 public schools. (Photo courtesy of DepEd-6)
ILOILO CITY – A total of 116 local government units (LGUS) in Western Visayas suspended classes in 3,848 public schools on Tuesday, supposedly the first day of school year 2023-2024, due to poor weather caused by "habagat" (southwest monsoon) enhanced by Typhoon Goring.
"Currently, we are abiding by the mandate coming from our local chief executives and local government units. Because of this inclement weather condition brought by the southwest monsoon and enhanced by Typhoon Goring, we abide by that order because paramount is the safety of our learners," said Department of Education Western Visayas information officer Hernani Esculllar Jr., in an interview.
He added that while everyone is excited to return to school, they have to consider the safety of learners, and they will wait for the LGUs to declare the resumption of classes.
Being the first day of school and teachers have yet to meet the learners, the information officer said it will now be up to the schools and their respective divisions to discuss the method they will take to cope with any missed lessons.
"To our parents and learners, kindly monitor your local chief executives for announcements on the resumption of classes, especially for those schools where LGUs declared the suspension of classes due to inclement weather," he said.
Of the affected schools, most came from the city and province of Iloilo, where 1,238 schools did not hold classes.
The suspension also covered 370 schools in Aklan, 535 schools in Antique, 446 in Capiz, 114 in Guimaras, 70 in Bacolod City, and 1,075 in Negros Occidental, as per data provided by the DepEd regional office.
In an interview on Monday, Escullar said DepEd was ready to welcome the over 1.5 million learners enrolled in 4,048 public elementary and secondary schools in the region, saying the first day of school will be the first day of classes for learners.
He added there are areas in the region, like Roxas City in Capiz, where the holding of classes continued.
The state weather bureau raised heavy rainfall warnings ranging from yellow to orange to red over several provinces in Western Visayas.
The yellow warning means flooding is possible in low-lying areas and landslides in mountainous areas; for orange, flooding is threatening low-lying areas and landslides in mountainous areas; and serious flooding is expected in low-lying areas and landslides in mountainous areas during the red level warning. (PNA)