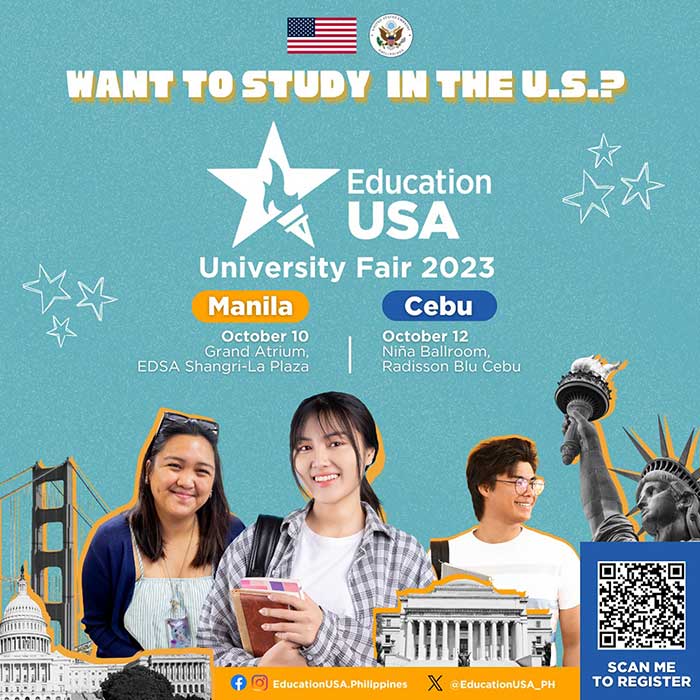 Thirty-two U.S. colleges and universities will participate in the 7th EducationUSA University Fair at the Shangri-La Plaza in Mandaluyong City on October 10, from 2:00 p.m. to 7:00 p.m., to offer relevant information for Filipinos interested in pursuing higher education in the United States.
Admission is free.  Interested attendees must register online at https://educationusaph.org/Fair2023.
Organized by the U.S. Embassy in the Philippines and the Philippine-American Educational Foundation, the EducationUSA University Fair provides the venue for students, parents, and school administrators to learn more about the U.S. university and college admissions process and explore academic programs offered by participating U.S. higher education institutions.  Representatives from scholarship organizations will also be present to provide information on financial assistance options while U.S. Embassy consular officers will offer guidance on the student visa application process.
The following U.S. colleges and universities will participate in the 7th   EducationUSA Fair in Manila: Arizona State University; California State University – San Bernardino; Carnegie Mellon University; Cascadia College; Clark College; College of Central Florida; College of Southern Nevada; Drexel University; Ferris State University; Foothill + De Anza Colleges; Green River Community College; Kent State University; Lewis University; Merrimack College; Moraine Valley Community College; Northeastern University; Nova Southeastern University; Riverside City College; Savannah College of Art and Design; SUNY College at Plattsburgh; The University of Texas at Dallas; Troy University; University of Central Missouri; University of Colorado at Boulder; University of Hawai'i at Mānoa; University of San Francisco; University of Utah Asia Campus; Valencia College; Washington State University; Xavier University; Yale University (School of the Environment); and York College of Pennsylvania.
After Manila, the EducationUSA Fair will make its way to the Radisson Blu Hotel in Cebu City on October 12.
"A U.S. education opens many doors for students and professionals to enhance their skills, experience a diversity of cultures, and benefit from quality programs offered by U.S. higher education institutions," U.S. Embassy Deputy Chief of Mission Y. Robert Ewing said.  "We are excited to organize this year's EducationUSA Fair once again in Manila and Cebu to invite young Filipinos to expand their horizons and explore the different opportunities that a global education in the United States has to offer."
On average, 3,000 Filipinos travel to study in the United States each year.
EducationUSA is a U.S. Department of State network of over 430 international student advising centers in more than 175 countries and territories.  The network promotes U.S. higher education to students worldwide, offering accurate, comprehensive, and current information about educational opportunities at accredited postsecondary institutions in the United States.
For more information on the EducationUSA Fair, follow EducationUSA Philippines on Facebook: https://www.facebook.com/educationusa.philippines.