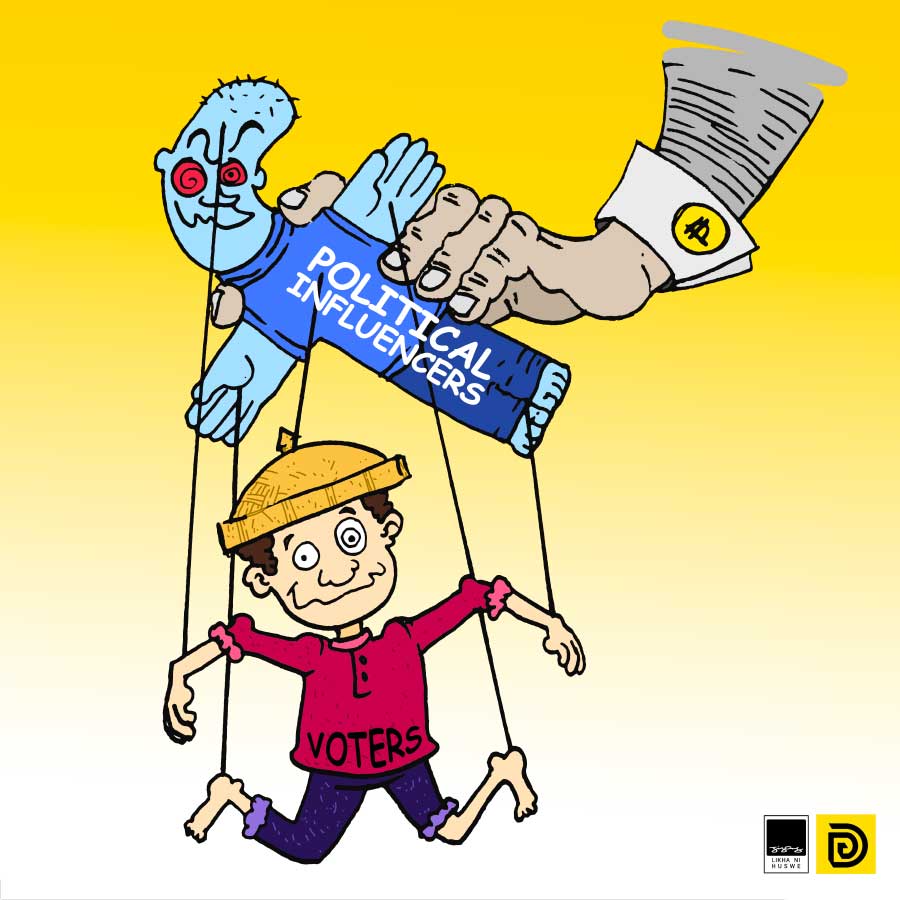 By Rjay Zuriaga Castor
Covert campaign operations by "political influencers" in social media platforms during the 2022 national elections cost from P600 million to P1.5 billion, according to a study by non-profit media support organization Internews.
The Internews study titled "Political economy of covert influence operations in the 2022 Philippine elections" investigated the political economy in last year's elections, particularly on social media influencers engaged in covert political campaigning.
Covert influence operations were defined as "organized and well-funded operations that orchestrate concealed, disguised, or opaque activities intended to manipulate public opinion." According to the study, covert political campaigning is one form of influence operations specific to elections.
Aside from extensive online research, the researchers of the study interviewed a total of 21 actors, 11 of whom are influencers who were involved in the May 2022 campaigns of selected candidates.
How much did it cost?
With the study's conservative estimate, the commissioned political influencers' cost for a top national post is at least P600 million if they were on a "retainer" or fixed fee basis and at least P1.5 billion for a "pay-per-post" pricing model.
The study revealed that there are approximately 1,425 influencer accounts across social media platforms that engage din covert political campaigning and the majority of the influencers are on video-based, creator-friendly platforms such as YouTube (587) and TikTok (544), followed by Facebook (207) and Twitter (87).
An influencer uses a specific platform for a specific purpose. YouTube is utilized for hyper-partisan news and information, TikTok is algorithmic manipulation, Facebook is for disinformation amplification, and Twitter is for politicized interaction.
A commissioned influencer can receive direct payments for their promotional labor, or
receive lower payments packaged with immaterial incentives such as insurance agreements, or even favors or bonuses when political clients win.
How do they operate? 
According to the study, new kinds of influencers relied less directly on explicitly false and harmful content, and more on content that used coded language signaling disinformative sensibilities during last year's elections.
It also noted that other influencers took to more direct promotional labor online and offline, working on a combination of traditional endorsements such as hosting campaign rallies, and more modern online endorsements such as YouTube vlogs, talk shows, and professionally produced attack skits.
The most common tasks of the influencers include sharing or boosting predetermined campaign content to their own networks and followers, creative promotion, participating in multimedia campaigns to debunk false claims and propaganda, or responding to rival accusations and truth claims, among others.
The study also showed that political influencer contracts are less standardized, often lacking an official written contract or non-disclosure agreements.
"In spite of the huge amounts of money involved, our respondents thought that they did not need written contracts since the outputs can easily be verified," the study explained.
"When the campaign center sees the influencer's content, it can readily confirm the delivery and performance of the influencer," it added.
2025 PH polls at stake
The study stressed that covert influence operations will only ramp up in the 2025 Midterm Elections.
To prevent this, it urged the government to expand the scope of a candidate's statements of contributions and expenses by including a broader range of non-advertising expenses, such as the commissioning of influencers, vloggers, and content creators or "gray actors."
It added that a candidate's self-reporting of finances must be supported with documentation, which would eventually require social media workers' incentives to be documented to make their engagements with political campaigns transparent.
The study also suggested that social media companies should review their "content creator" programs to determine those involved in covert influence operations and implement mechanisms to penalize those who monetize malicious activities.