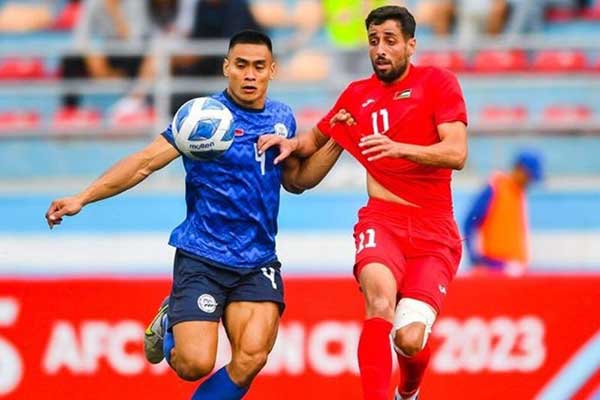 By Leobert Julian A. de la Peña
The Philippine Azkals are most likely out of the 2023 AFC Asian Cup contention.
In dire need of a win to keep their 2023 AFC Asian Cup hopes alive, the Azkals received a painful exit and had their hopes extinguished after suffering a 4-0 loss against Palestine during their third game of the qualifiers.
The loss will drop them out of the qualifying teams that will advance to the main draw. However, there is still a slim possibility that the Azkals might earn another qualifying round game and that's if things go their way in the match between Mongolia and Yemen.
The Palestinians just overwhelmed the Azkals squad from the get-go and used their crisp offensive sets to counter the Filipinos' physical brand of backline defending.
All hell broke loose during the 31st minute after Palestine drew first blood off a sweet header conversion from Saleh Chihadeh.
11 minutes after the Palestinians went up for a 1-0 lead, Tamer Seyam sent another one to double their advantage which was built again from a header attempt.
The Azkals and head coach Thomas Dooley adjusted pretty quickly at the start of the second half and executed great help defenses in the wings and were better in pushing the tempo of their attacks.
However, Palestine's high-octane offense couldn't be handled during the 50th-minute mark as they came back storming quickly with their sets.
Palestine scored their first point of the second half at the 55th-minute mark courtesy of another header from Mohammed Yamin that went past Neil Etheridge in the goal post.
As the match progressed, the Azkals failed to send in a single goal to build some momentum and only saw the Palestinians fire another one in the 72nd minute.
With the loss against Palestine, the Azkals are stuck with a four-point tally in Group B while the Palestinians stayed on top with nine big points.