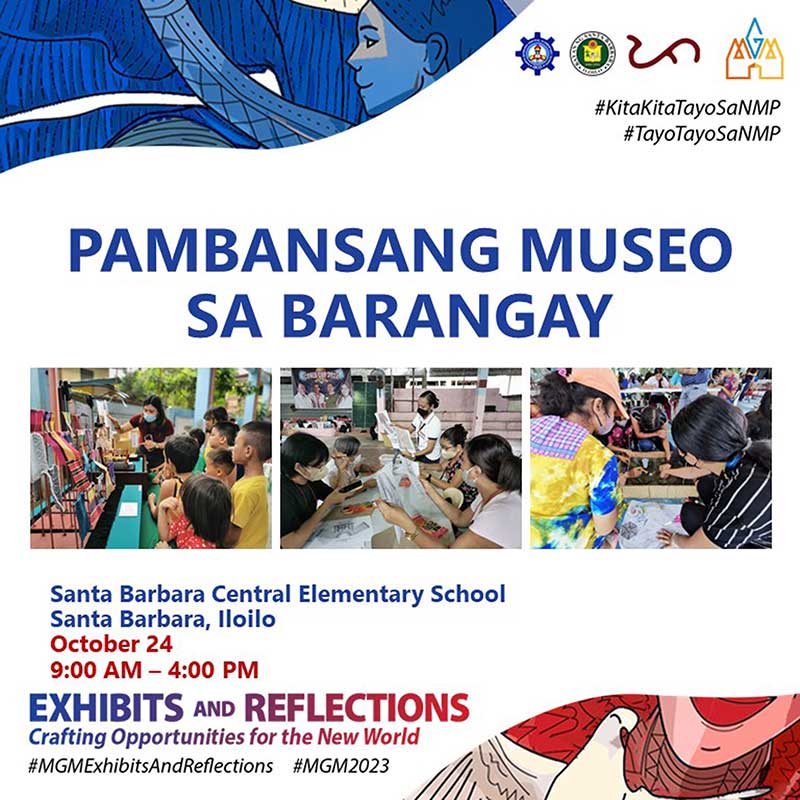 The National Museum of the Philippines is bringing the Pambansang Museo sa Barangay (PMB) to Santa Barbara Central Elementary School in Santa Barbara, Iloilo today, October 24, 2023, 9AM to 4PM, in celebration of the Museums and Galleries Month 2023.
Around 1,000 learners, faculty and LGU staff are expected to view the travelling exhibition, with more than half of them to take part in the corollary lecture and workshops. This leg is in partnership with Santa Barbara LGU through its Municipal Tourism Office.
The mobile museum boxes feature replicas of fossil molars of elephant and stegodonts, Oton gold death mask, plants and animals that are endemic to Western Visayas, dioramas of caves and forests, and samples of handwoven textiles and raw materials such as cotton, abaca, pineapple, and silk threads.
All of which represent the permanent exhibitions at National Museum Western Visayas.
The corollary lectures will discuss biodiversity – its importance to survival of humans, and the threats to it, including human intrusions to natural habitats and extinction of species.
This is also a call to action, particularly to live sustainably, and encourage the public to be mindful of the impacts of their daily activities to the environment.
Learners and adults alike will also have an hour of hands-on activities like sandbox archaeology, rock art, piña-seda embroidery, and coloring of scientific illustrations by NMP artist-illustrator Aissa Domingo.
PMB is a Universal Access project of the National Museum Western Visayas. Launched in 2022, PMB was initially funded by International Centre for the Study of the Preservation and Restoration of Cultural Property (ICCROM).
The project aims to democratize Filipinos' access to National Collections, particularly to the cultural, educational, and scientific experiences the National Museum offers. It is also an invitation to the public to visit the museum and see the actual collections.
The project is envisioned to help raise a generation of Filipinos who appreciate, protect, and value the Filipino cultural and natural heritage. The mobile museum already visited seven barangays and one state university in Iloilo city and province since June 2022. Next month, the PMB will travel to the City of Passi in Iloilo.