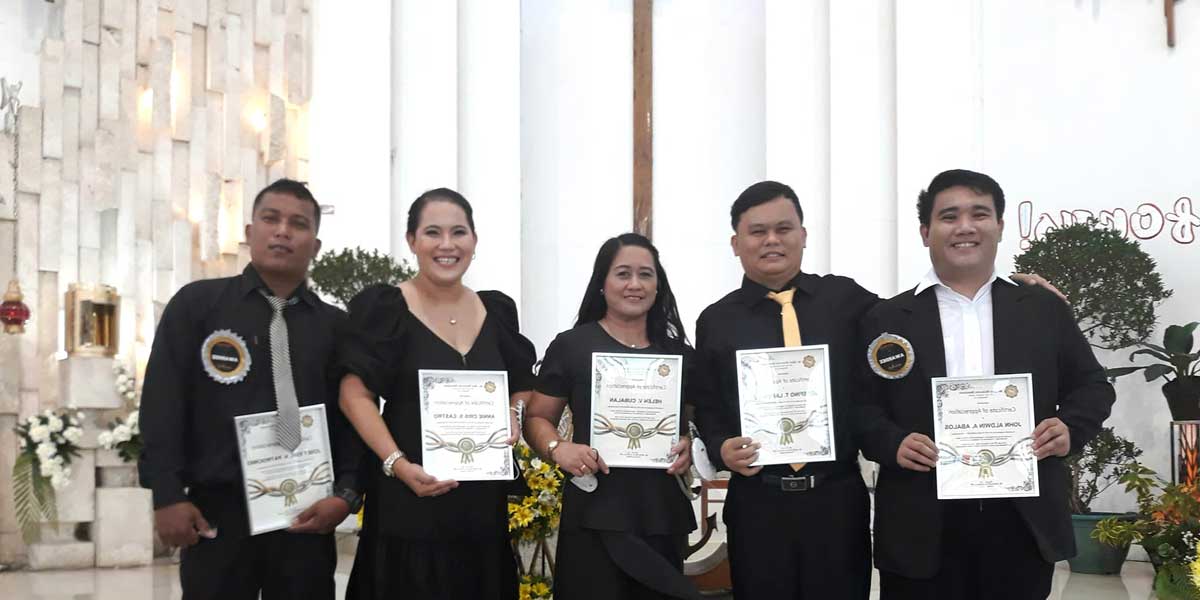 The Paulinian community recently honored service awardees alongside the celebration of the Feast of the Conversion of St. Paul and 𝐭𝐡𝐞 𝐅𝐞𝐚𝐬𝐭 𝐨𝐟 𝐭𝐡𝐞 𝐒𝐢𝐬𝐭𝐞𝐫𝐬 𝐨𝐟 𝐒𝐭. 𝐏𝐚𝐮𝐥 𝐨𝐟 𝐂𝐡𝐚𝐫𝐭𝐫𝐞𝐬.
The Employees Appreciation Day is the opportunity to recognize their hard work, loyalty, dedication, and contribution to the success of St. Paul University Dumaguete.
The keynote message was given by Sr. Joseline R.Lasala, SPC University President, and a video message from Sr. Lilia Therese Tolentino, SPC Provincial Superior SPC Sisters in the Philippines.
During the Eucharistic Celebration, the SPC Sisters community Launched the SPC 2022 Christological Theme: Jesus, The Teacher, and Prophet.
In recognition of their years of dedicated service and love, St. Paul University awarded 25 personnel during St. Paul Day last January 25,2022 at the University St. Paul Chapel.
This year's theme is "𝗕𝗥𝗘𝗔𝗞𝗧𝗛𝗥𝗢𝗨𝗚𝗛: 𝗔 𝗖𝗲𝗹𝗲𝗯𝗿𝗮𝘁𝗶𝗼𝗻 𝗼𝗳 𝗖𝗼𝗺𝗺𝗶𝘁𝗺𝗲𝗻𝘁 𝗮𝗻𝗱 𝗦𝗲𝗿𝘃𝗶𝗰𝗲" with the SPUD College of Nursing under the leadership of Dr.Clifford Kilat, Ms Shawie Awayan, and faculty as the sponsoring department with Adam Rashid A. Almannai as the artistic director.
The service awardees were: June Rett Aquino, Katerina Ebrole , Rhea Joy Fortuito, Rhea Fernandez, Zecariah Chito Jumawan, Jennifer Lenes, Sami Gregg Managbanag, Jean Macay Palmes, and Harley Partosa (5 years); John Aldwin Abalos, Annie Cris Castro, Helen V. Cubalan, Josefino T. Larena Jr. and Josef Emil Patrocinio (10 years); and Kenneth Paul Duran and Erven K. Noay (15 years).
Also cited for their 20 years in service were Jehsell Belista, Rochel S. Ignacio, Elenita Naquimen, Vanessa Pis-an, Leila Rabadon, and Orly Tayubal,
Maridel Boncales, and Annabella B. Monte de Ramos were cited for 25 years of service; and Rolando D. Cornelia, and Jerry Boy Dayucos for spending 30 years with the community.
Sr. Mary Maynard Paglinawan, SPC, was recognized for 5 years of service and local Superior of the SPC Sisters in Negros Sr. Ellen T. Lorenzana, SPC, for spending 10 years with community.